Supporting Culture and Sports
Master Shiko Munakata and Yaskawa
An Encounter between Yaskawa and Master Shiko Munakata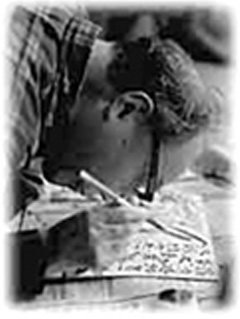 The Master at work
It began in 1951 when the head of advertising's strong interest in prints created by Master Munakata culminated in a visit to the Master's studio in Ogikubo. That first encounter became a lifelong relationship as Yaskawa commissioned one Munakata piece after another to grace our facilities as well as our promotional magazines. Some of the Master's extraordinary pieces eventually evolved into a series of calendars.
Master Munakata was not a leading woodblock print artist in 1951, and, in fact, he was virtually unknown. However, he exhibited his piece "Nyonin Kanzeon" at the International Exhibition in Lugano, Switzerland that same year, and became the first Japanese artist ever to win the coveted top prize there. His print "Shaka Judaideshi" won the Grand Prix at the Sao Paolo International Art Exhibition in 1955, and a series of subsequent wins brought Master Munakata international acclaim. This was soon followed by widespread recognition in Japan as well. International fame never affected our relationship with the Master, and we are honored that he played such an invaluable role in our corporate history and culture over the years.
Nyonin Kanzeon print from Aomukehi no Saku Won first prize at the International Exhibition in Lugano, Switzerland

Shaka Judaideshi selection from Shaributsu no Saku Won the Grand Prix at the Sao Paolo International Art Exhibition
Master Munakata and "The Yaskawa calendars"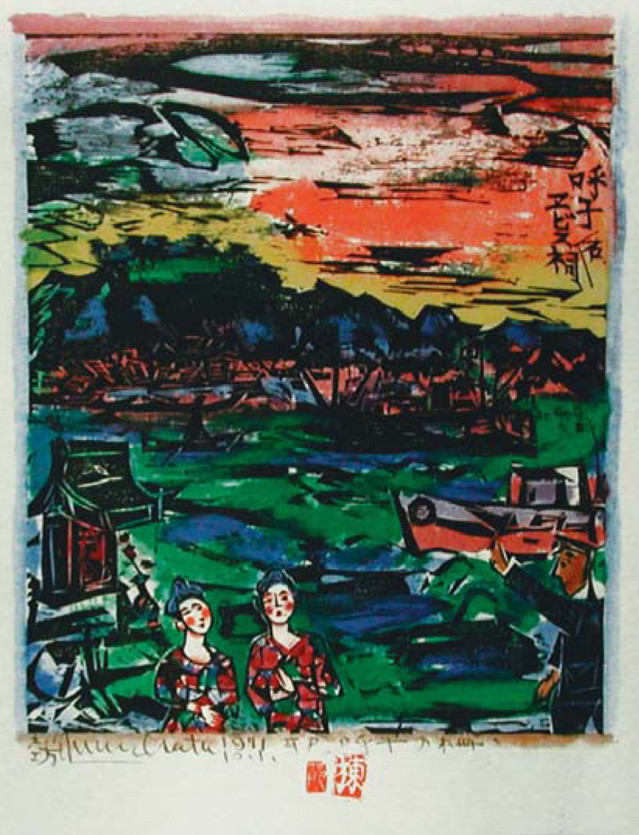 Nishi Kaido Munakata Woodblock Prints Hirato Yobiko no Saku
Yaskawa has been producing calendars displaying the works of Master Munakata since 1958. These calendars were sent out to customers at home and abroad, and they have always been extremely popular. Although countless calendars are produced in Japan today, not one of them has been dedicated continually to the works of one artist for so long.
The Yaskawa calendars are distinguished by extraordinary works of art derived from poetry penned by the Master himself. Another striking feature is that the true beauty and natural talent found in the original works were painstakingly reproduced by printing every stunning piece on handmade Japanese paper. Each piece can be removed from the original mounting, remounted and framed for years of enjoyment long after the calendar year has gone.
Many brilliant pieces have appeared in the Yaskawa calendars over the years, but the most notable calendars have to be the Kaido Series that began with the Nishi Kaido Munakata Woodblock Prints from 1971. These truly original collections were the result of close collaboration between Master Munakata and Yaskawa both in the planning and in the journey to gather the materials that were used. No one was more enthusiastic about making the calendars truly great works of art than Master Munakata himself. He wanted others to draw from life, to enjoy beautiful scenery, and to experience the delicacies of provintial areas. The calendars make it clear that he wanted others to enjoy the journey as well.
Visit the Shiko Munakata Museum for details on the works and life of Master Munakata.
Sponsorship of literary coterie magazine "Kyushu literature"
Yasukawa Electric Kyushu Prize for Literature
"Kyushu literature" was launched in 1938 by Ashihei Hino and Shunsaku Iwashita, who were active mainly in the Kitakyushu region, with a view to expanding literary activities in the region.
Although the magazine is a regional literary magazine, it is highly regarded as a gateway to the literary world for newcomers. To date, many Akutagawa and Naoki Prize candidates have been selected from its publications and writers, including Ashihei Hino, Shunsaku Iwashita, and Taneo Harada. Also, "Maboroshi no Yamataikoku" released in the magazine was made into a movie starring Sayuri Yoshinaga and others in 2008.
Yaskawa has contributed to the invigoration of cultural activities in the Kyushu region by holding the "Yaskawa Electric Kyushu Prize for Literature" in the same magazine since 2015.
Volunteer Activities at "Kitakyushu Marathon"
As a main sponsor, we support the Kitakyushu Marathon, which has become an established citizen marathon in Kitakyushu, and our employees and their families also participate in the event as volunteers.