Relations with Local Community and Society
We promote activities to coexist with local communities, which is set forth in our long-term business plan "Vision 2025" for maintaining and enhancing good relationship with our stakeholders.
Disaster Restoration Support
Yaskawa engages in volunteer activities using day-off system for the recovery of daily lives of victims who have been affected by natural disasters.
The Heavy Rain in July 2018
In response to the Heavy Rain Event of July 2018, Yaskawa has been initiating volunteer works by our employees as well as monetary donations and fund-raising activities.
Training of the Next Generation
Yaskawa provides various supports and activities for young generation in order to foster engineers.
Supporting Robot Competition for Students
Since 2005, Yaskawa Electric has co-sponsored the annual Technical College Students' Robot Contest, popularly known as the Kosen Robo-Con, in which engineers-to-be from around Japan compete in contests focusing on robot production ideas and technology as well as robot performance. 2018 marked RoboCon's 31st anniversary.
As a company in the robotics business, we support this educational opportunity in order to encourage many young students to get involved in manufacturing and in hopes of fostering the next generation of talent.
Hosting of a Girls' Day at Yaskawa Electric
In 2018, we hosted a "Girls' Day" event for female students in Kitakyushu where our head office is located as well as the previous year. Girls' Day is an event where introductions are offered for jobs in the science and engineering fields, piquing the interest of participants as they have fun. The female students programmed and ran the actual industrial robots, as well as toured YASKAWA Innovation Center.
Gakken Educational Comic for Primary School Children "Hataraku Robot no Himitsu (The Secret of Robots in Manufacturing)"
As a part of the project for the 100th anniversary of the company's establishment, Yaskawa published a comic book, "Hataraku Robot no Himitsu (The Secret of Robots Manufacturing)," as one of the series of educational materials for primary school children "Manga de Yokuwakaru Series (Let's Learn It with Comic)," planned and produced by Gakken Publishing Co., Ltd. (hereinafter "Gakken") and donated the comic books to 22,000 primary schools and 3,200 public libraries in Japan through Gakken.
The series are Gakken's educational materials, which introduce various themes in order for children to understand them easily, that have been popular among children for more than 20 years as recommended books by "The Public-Interest Corporation of Japan PTA (Parents and Teachers Association) National Council." Assenting to its intent and purpose, Yaskawa supported this publication to foster children's interest in manufacturing and expand their possibility for the future through industrial robots, one of its major products.

Yaskawa Electric strives to interact with the community and build a better relationship with people in local communities. To do this, we participate in volunteer activities and local events, as well as offer sponsorship of the local soccer team, among other activities.
Yaskawa-kun at Various Special Events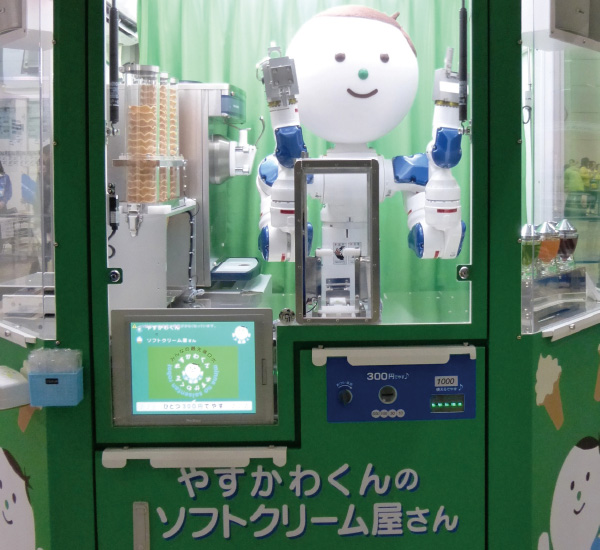 Yaskawa-kun, an ice-cream vending robot, debuted in the summer of 2010 and continues to be exhibited at various events. Many adults as well as children, who ordinarily have little opportunity to see an industrial robot, are enjoying it greatly.
Activities Leveraging Robot Village
Since Yaskawa opened Robot Village at its head office in Kitakyushu on June 1, 2015 as part of its 100th anniversary project, the YASKAWA Innovation Center, an integral facility at the village, has welcomed more than 100,000 visitors as of June 2018. Embracing our hopes to nurture children who are our future and to express our appreciation to the people of the community who have supported us since our establishment, our guides and every one of our staff members aim to deliver the appeals of Yaskawa to the visitors to deepen their understanding for our company.
We will continue to use Robot Village as a contact point that ties Yaskawa with the community by continuing to vigorously take part in local events, offer inspection tours to customers from both Japan and abroad, and as an avenue for communication between industry, government, and academia for our group to co-exist with the community.
Activities in FY2017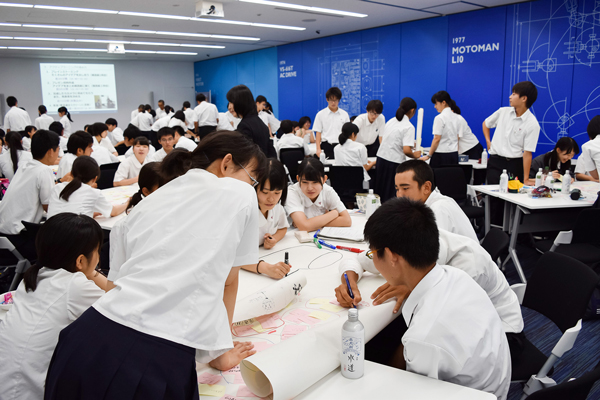 We invited 79 students in their second year at Fukuoka Prefectural Tochiku High School, designated by the Ministry of Education, Culture, Sports, Science and Technology as a Super Science High School (SSH), to YASKAWA Innovation Center and held an experience-based event to boost their interest in science and technology. In addition to offering tours of our facilities, we also offer additional programs based on a desire to further nurture creativity and expressiveness among our visitors, which include preparatory facilitation training for group leaders and a lecture by the director of the Innovation Center on "The World in the Near Future based on AI and Deep Learning" as we continue to make efforts to offer attractive opportunities to develop human resources.
And in October 2017, the Emperor and Empress of Japan visited YASKAWA Innovation Center and watched a Yaskawa employee walk using ReWalk, our wearable robotic exoskeleton that assists independent, controlled walking, and our biomedical robot for automated pharmacy orders. Yaskawa held an industry-government-academia meeting to exchange opinions on regional revitalization in January 2018 in our head office auditorium, attended by Hiroshi Kajiyama, Minister of State (Regional Revitalization, Regulatory Reform), Kozo Yamamoto, former Minister of State (Regional Revitalization, Regulatory Reform), Mayor of Kitakyushu, president of Kyushu Institute of Technology, president of University of Occupational and Environmental Health, Japan, vice president of University of Kitakyushu, and Yaskawa President Ogasawara and Director Nakayama.
Kurosaki Shrine Omikuji Robot at JR Kurosaki Station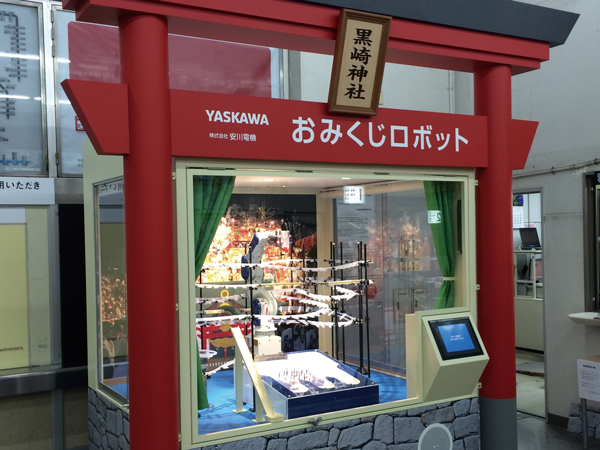 (Hours: 9:30 – 17:00 ; free of charge)
For the purpose of supporting the revitalization of the community, Yaskawa set up its seven-axis, vertical multi-joint robot at JR Kurosaki station, the closest train station to the head office, as an "Omikuji Robot". A press of the button at the front of the booth, built in the form of torii gate, brings on the sound of cheerful music as the robot sets the ball in place and the action begins.
The rails, set up like a roller coaster, are cut off here and there, and the robot bridges those gaps with complicated movements as it guides the ball to the finish line. An Omikuji slip is produced when the ball slides into one of the several goal pockets, for the day's fortune to be told.
Volunteer Activities at Kitakyushu Marathon
Yaskawa has been supporting the Kitakyushu Marathon, as a main sponsor since 2014. Employees and their families also took part in supporting the marathon as volunteers.
Sponsoring Giravanz Kitakyushu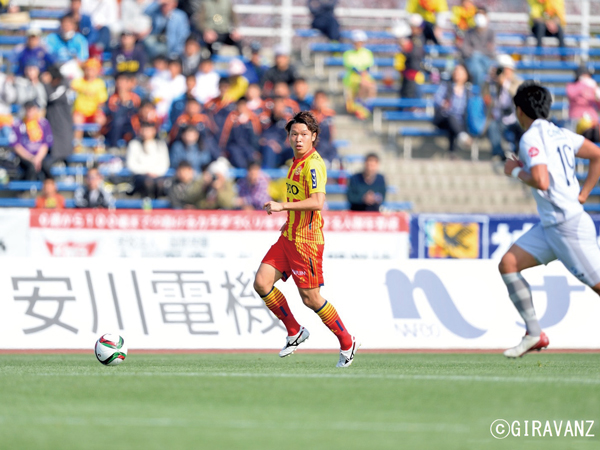 Giravanz Kitakyushu in a match
We have supported the Kitakyushu-based professional soccer team, Giravanz Kitakyushu, since 2009. We also contribute to the cultivation of young people by promoting sports in the local region. Our sponsor logo is displayed on the team uniforms and everyone in the Yaskawa Group is rooting for them.
Master Shiko Munakata and Yaskawa
An Encounter between Yaskawa and Master Shiko Munakata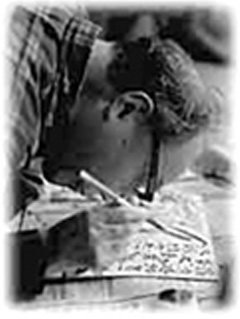 The Master at work
It began in 1951 when the head of advertising's strong interest in prints created by Master Munakata culminated in a visit to the Master's studio in Ogikubo. That first encounter became a lifelong relationship as Yaskawa commissioned one Munakata piece after another to grace our facilities as well as our promotional magazines. Some of the Master's extraordinary pieces eventually evolved into a series of calendars.
Master Munakata was not a leading woodblock print artist in 1951, and, in fact, he was virtually unknown. However, he exhibited his piece "Nyonin Kanzeon" at the International Exhibition in Lugano, Switzerland that same year, and became the first Japanese artist ever to win the coveted top prize there. His print "Shaka Judaideshi" won the Grand Prix at the Sao Paolo International Art Exhibition in 1955, and a series of subsequent wins brought Master Munakata international acclaim. This was soon followed by widespread recognition in Japan as well. International fame never affected our relationship with the Master, and we are honored that he played such an invaluable role in our corporate history and culture over the years.
Nyonin Kanzeon print from Aomukehi no Saku Won first prize at the International Exhibition in Lugano, Switzerland

Shaka Judaideshi selection from Shaributsu no Saku Won the Grand Prix at the Sao Paolo International Art Exhibition
Master Munakata and "The Yaskawa calendars"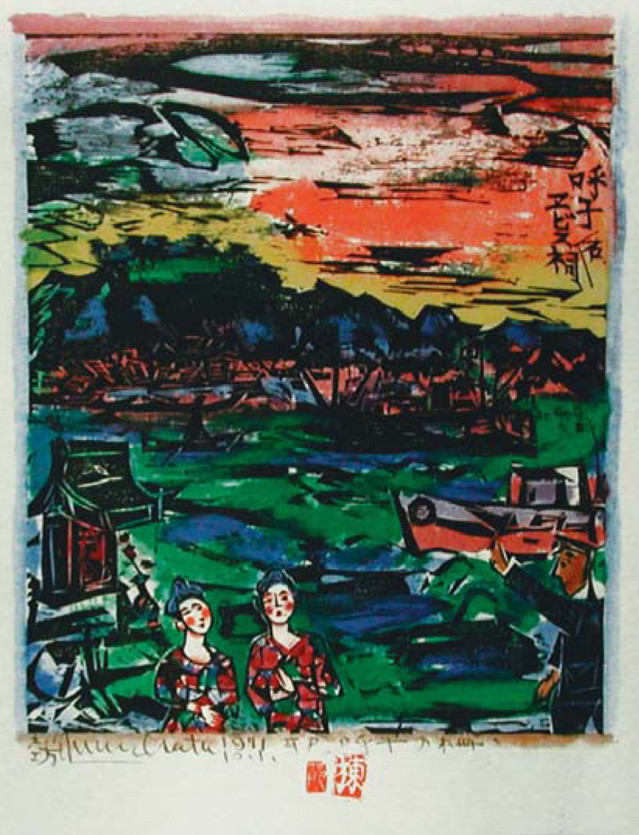 Nishi Kaido Munakata Woodblock Prints Hirato Yobiko no Saku
Yaskawa has been producing calendars displaying the works of Master Munakata since 1958. These calendars were sent out to customers at home and abroad, and they have always been extremely popular. Although countless calendars are produced in Japan today, not one of them has been dedicated continually to the works of one artist for so long.
The Yaskawa calendars are distinguished by extraordinary works of art derived from poetry penned by the Master himself. Another striking feature is that the true beauty and natural talent found in the original works were painstakingly reproduced by printing every stunning piece on handmade Japanese paper. Each piece can be removed from the original mounting, remounted and framed for years of enjoyment long after the calendar year has gone.
Many brilliant pieces have appeared in the Yaskawa calendars over the years, but the most notable calendars have to be the Kaido Series that began with the Nishi Kaido Munakata Woodblock Prints from 1971. These truly original collections were the result of close collaboration between Master Munakata and Yaskawa both in the planning and in the journey to gather the materials that were used. No one was more enthusiastic about making the calendars truly great works of art than Master Munakata himself. He wanted others to draw from life, to enjoy beautiful scenery, and to experience the delicacies of provintial areas. The calendars make it clear that he wanted others to enjoy the journey as well.
Visit the Shiko Munakata Museum for details on the works and life of Master Munakata.