Relations with Shareholders and Investors
Yaskawa Electric aims to be a corporation that is trusted by shareholders, investors, and all its other stakeholders. To that end, we are working to realize management with a high degree of transparency by means of prompt, appropriate, and fair information disclosure.
Basic Rationale on Information Disclosure
Yaskawa clearly states in its "Yaskawa Group Corporate Code of Conduct" that it is to "protect not only its own information but also important information of other companies and personal information" as well as "discourage and tolerate no insider trading," and that it is to "comply with company information disclosure rules and strive to disclose correct information in a timely manner."
Based on these policies, we disclose information in compliance with the various laws and regulations including the Financial Instruments and Exchange Act and rules on timely disclosure established by the stock market where our stocks are listed. We are also proactive in disclosing, upon considering fairness and timeliness, information that does not fall under the above conditions but is believed to have practical impact on investment decisions and other such matters and information believed to be useful in deepening the understanding of the company among investors.
Investor Relations Activities in FY2018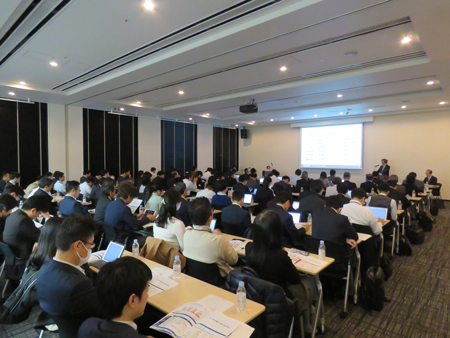 Results Briefing
The Yaskawa Group positions IR activities as two-way communication with shareholders and investors. We provide the opinions of shareholders, investors, and other stakeholders as feedback to management. In this way, we strive to improve our corporate value.
In fiscal 2018, we worked to exchange information with institutional investors within and outside Japan by holding a total of roughly 410 meetings with approximately 1,300 investors.We also held briefings on financial results for institutional investors and securities analysts twice a year. And in order to promote understanding of Yaskawa, we provide opportunities to see our products and services up close through visits to our locations both within and outside Japan, plant tours, and booth tours at exhibitions.
We visit financial institutions and participate in conferences organized by securities companies in Asia, U.S. and Europe in order to exchange information with global shareholders and investors who we have less opportunities to communicate with on a regular basis. We also accept telephone interviews.
For the enhancement of fair disclosure, we are also making continuous improvements in the information disclosure using our website.
Returns to Shareholders
Based on the "Vision 2025," we will make dividend payments according to our profit level and our payout ratio target.
In the fiscal year ended February 2019, with an interim dividend of 26 yen per share and a year-end dividend of 26 yen per share, the annual cash dividend was 52 yen per share. As regards uses for internal reserves, we have determined that the decision should take circumstances into account, and that basically we will channel the reserves into preparation for future business expansion and into research and development expenses in order to respond to anticipated changes in the business and management environment.
Paid Dividends