Social contribution activities overseas
CHINA
Robot Center Receives Visitors from Educational Institutions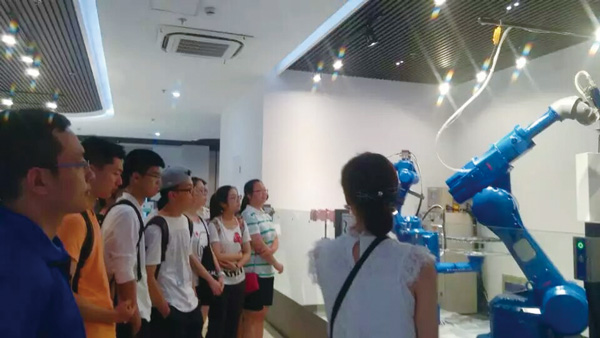 Students on a tour at Shanghai Robot Center
Since opening its Shanghai Robot Center in 2014, Yaskawa has been receiving visitors from many educational institutions including junior high schools, vocational schools, and universities. Photo shows students from Department of International Studies of Shanghai Southwest Weiyu Middle School on a visit where they appeared fascinated by the various movements of the robots and the demonstration products for AC servos and AC drives. The heated inspection tour continued at the adjacent After Service Center that offers follow-up services for the repair and maintenance of Yaskawa products.
THE AMERICAS
Hosting of Students during National Robotics Week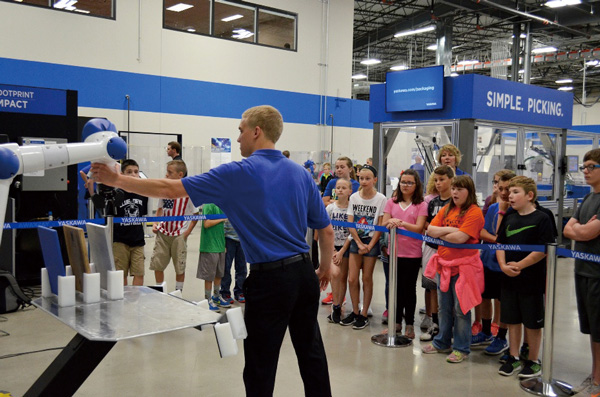 A tour of the facility of Yaskawa America Inc.
In celebration of National Robotics Week, Yaskawa America invited about 400 students from high schools, universities, and career centers on a tour of its robotics operation. The students had the opportunity to see live robotics demonstrations and learn about future careers in automation.
EUROPE
Participation in The Baltic Sea Circle Rally, a Charity Event
Between June and July 2016, two engineers at Yaskawa Europe drove a distance of more than 7,500 km to Nordkapp (North Cape), the northernmost point of Europe, collecting funds for charity. The collected funds were used to support an organization that is dedicated to child welfare and the eradication of child poverty.
ASIA EXCEPT CHINA
Free seminar held at Thai Robot Center
Yaskawa Electric Thailand held a free seminar for nonprofit organizations to contribute to the development of human resources and the promotion of the next generation of the industry sector. More than 50 people from the Technology Promotion Association Thailand-Japan visited Yaskawa's Robot Center in March 2017 where they watched and experienced demonstrations and seminars on the latest robotics technology.