Challenges in Installing Robots until Now
When you hear "industrial robots", you may associate with some images of welding or painting process at automobile plants. Recently, however, robots are now used in many fields including logistics and food other than automobile. In recent years, labor shortage at manufacturing sites is a serious problem around the world so that the automation using robots become increasingly necessary. In addition, the needs for the usage of robots are diversifying these days as we assign multiple jobs to one robot, not just make it repeat a simple job as before.
Even so, there was a big hurdle for small and mid-sized companies to install robots because the working area for humans had to be separated from industrial robots by a safety fence, which required sufficient space and installation cost.
The Ordinance on Industrial Safety and Health∗1 was revised in 2013, enabling us to install robots without safety fencing. In addition to this, we are now able to secure the safety for humans, thanks to the advancement of robot technology, by embedding safety sensor in robot's body, which helps to develop collaborative robots which can work with humans in a limited space. Now many manufacturers provide collaborative robots.
Not just the advancement of robot itself, there are many products invented for those who are not familiar with operating robots. For example, you can easily teach robots movements with a programming pendant that functions intuitively like a tablet or by directly holding and moving the robots by hand.
Now that humans are able to do various works with robots even in the place where it used to be difficult to install them thanks to the launch of collaborative robots.
<Use cases>
・Auto parts assembly, screw fastening, inspection
・Steel metal pressing at metal processing factories
・Putting/taking products into/out of machine tools
・Passing products from robots to humans at food factories, etc.
Within/inter-equipment conveyance

Various parts arranging, box packing
∗1 Notification Number 1224-2 of December 24, 2013
Note: Risk assessment will be required when there is no safety fencing.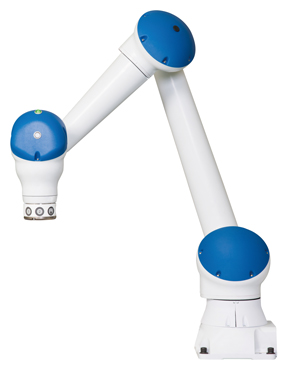 MOTOMAN-HC10DT
MOTOMAN-HC series is able to work in the same space as humans together, incorporating a structure that reduces risk of fingers and hands being caught and a safety function that minimizes damage by contacting with humans. It also has the direct teach button that makes operation easy for those who are not familiar with operating robots.
In addition, we also offer a hand-carry type mounted on a movable cart and can easily be moved as needed when the changes in production plan or line layout occurs.
MOTOMAN-HC series will expand the possibility of new manufacturing by collaborative work with humans and robots.