Securing and Developing Human Resources
Approach to Hiring and Training Human Resources for Sustainable Value Creation
In order to achieve the goals of Vision 2025, we have established a policy of seeking the following three in human resources and are developing specific measures for recruitment and training. The 1st is "those who can think on their own and take on new challenges and play an active role", the 2nd is "those who can compete and win globally", and the 3rd is "those who accept diversity and pull, bind, and support organizations and people".
Aiming to create a better society through superior products and services, Yaskawa considers employee growth to be its greatest asset (value). Based on the belief that "the role of the company is to provide a place for employees to realize themselves" we have introduced an education system that respects each employee's autonomy, from "provided education" to "self-taught education". After understanding the gap between "ideal human resources and one's goal" and "present self" employees will utilize a variety of education and employee training programs to achieve "self-actualization".
We also provide long-term human resource development through a career plan system that is tailored to the motivation and aptitude of each employee.
Furthermore, in order to improve human resource development, we have introduced a unique system that emphasizes two-way communication, in which the top management assume a role of "Personnel Development Promotion Officer" and directly talk to employees about their dreams and human resource development policies, and holds meetings in which employees directly express their true opinions and requests to the management.
Education System
Based on the basic concept of self-education rather than the given education, OJL (On the Job Learning), which is learning through work, is positioned at the center, and it is supplemented by Off-JL (Off the Job Learning) and self-development, which enhances the value of the employee. As for self-development, the company provides support for what the company considers to be eligible for support, assuming a certain level of self-payment.
We have recently implemented the following two priority measures.
1. Penetration of management principle
At Yaskawa Electric, management principle is the fundamental activity policy and judgment standard, and we are implementing ideological education to increase the number of people who have an unshakable axis and can embody our principles, even when the environment surrounding the company changes drastically.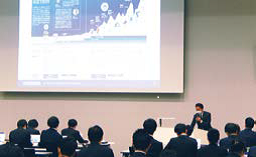 A scene of a philosophy lecture given by an executive to new employees
2. Development of professional human resources
In today's business environment, which demands global competition, it is necessary to professionalize each person in order to maintain our competitive edge as a company. We believe that the more professional talent we have, the more competitive the company will be and the more flexible we will be in our ability to respond to change and crisis.
In order to increase the ratio of professional talent, we will use skill maps to visualize the ratio of professional talent and create a career path and visualize the skills and abilities to be acquired as well as the path to step up to create an environment where all employees actively learn the necessary abilities and skills and encourage independent (autonomous) growth. We are also focusing on the development of DX human resources, establishing a rapid PDCA cycle through data-based decision-making, and working to transform business models and promote efficiency through operational reforms.
Development of Young Human Resources
Yaskawa promotes development of human resources that can think logically and convey to others appropriately as the ideal image for young employees (Within 5 years of joining the company). In addition, the "Yaskawa Freshers Technical School (YFTS)" was opened in 2017 for newly hired technical employees to acquire a certain range of knowledge (depth and breadth) required for working at Yaskawa. Through these initiatives, we are working to ensure that each employee can fully demonstrate his or her capabilities in the business environment.
Dialogue Meeting with Management
Yaskawa is carrying out unique human resource development activities that emphasize direct communication (dialog meeting) with top management. The president of Yaskawa Electric is in charge of promoting human resources development, and is working to expand the circle of communication with employees and improve human resource development through two-way dialogue. The activities are aimed at enhancing the motivation of participants and developing human resources who can take on challenges.
President Ogawa's thoughts
・I want to develop people who can make the most of their abilities by turning them into opportunities at any time!
・I want to make Yasukawa Electric continue to contribute to customer value with its evolving uniqueness!
・I want to create a diverse Yaskawa Group that can communicate with society!
Assignment of Human Resources
Yaskawa's basic philosophy is to place the right people in the right places so that employees with diverse lifestyles find their jobs rewarding. To this end, each employee is required to demonstrate his or her abilities and grow on his or her own, and we are working to realize the placement of human resources to realize his or her career by providing opportunities to communicate careers based on his or her own ideas.
On a global basis, based on our basic policy of "glocal management" we provide opportunities for employees to pursue careers overseas, and at the same time promote the localization of overseas operations. The localization ratio of key positions at major overseas subsidiaries is approximately 40%.
Reward System for Inventions
We have established a proper compensation system for employee inventions in accordance with the provisions of the Patent Act for employee inventions. This invention compensation system is designed to 1) cover items that make a high business contribution, items that have a high technical value, and items that have a high intellectual property value, and 2) reward items equivalent to patents for "know-how" that do not file patent applications, and it also serves to motivate employees for inventions.