Human Resource Development
Basic Approach to Human Resource Development
Our basic approach is to develop robust employees who can proactively solve problems and respond to changes in the business structure. We provide a variety of educational opportunities based on this approach.
Education System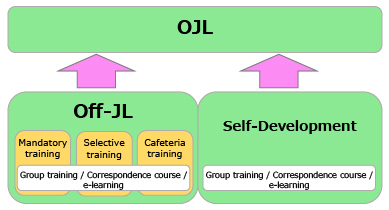 Based on the basic concept of self-education rather than the given education, OJL (On the Job Learning), which is learning through work, is positioned at the center, and it is supplemented by Off-JL (Off the Job Learning) and self-development, which enhances the value of the employee. As for self-development, the company provides support for what the company considers to be eligible for support, assuming a certain level of self-payment.
Development of Young Human Resources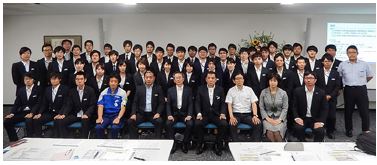 YFTS opening ceremony
Yaskawa Electric promotes development of human resources that can think logically and convey to others appropriately as the ideal image for young employees (Within 5 years of joining the company). In addition, the "Yaskawa Freshers Technical School (YFTS)" was opened in 2017 for newly hired technical employees to acquire a certain range of knowledge (depth and breadth) required for working at Yaskawa. Through these initiatives, we are working to ensure that each employee can fully demonstrate his or her capabilities in the business environment.
Dialogue with Management
Yaskawa is carrying out unique human resource development activities that emphasize direct communication (dialog meeting) with top management. The president of Yaskawa Electric is in charge of promoting human resources development, and is working to expand the circle of communication with employees and improve human resource development through two-way dialogue. The activities are aimed at enhancing the motivation of participants and developing human resources who can take on challenges.
President Ogasawara's thoughts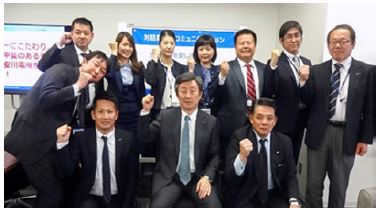 At a dialogue meeting
・I want to develop people who can make the most of their abilities by turning challenges into opportunities!
・I want to build Yaskawa that continues to contribute to customer value through evolving ourselves!
・I want to create a diverse Yaskawa Group that can create value through dialogue with society!