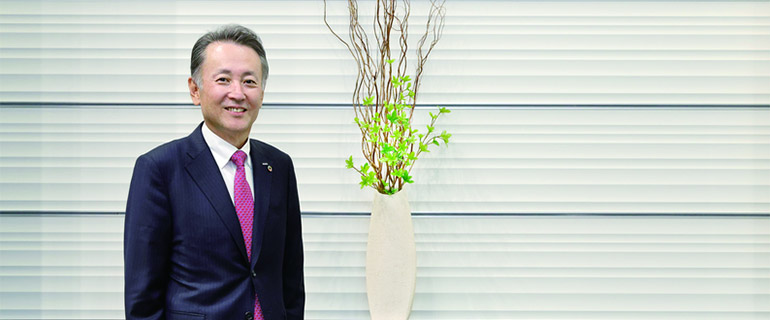 Since its establishment in 1915, Yaskawa has defined its business area as "electric motors and their applications," supporting leading-edge companies with our products and technologies. With the corporate creed of "a technology-driven company," we have put forward the concept of "mechatronics*," the basis of business, ahead of the rest of the world. We are committed to being world leaders in developing innovative technologies and products and consistently place quality first through effective management.
Based on the Yaskawa Principles, which states, "our mission is to contribute broadly to social development and human welfare through the execution of our business.", the Yaskawa Group contributes to the resolution of customers' management issues as well as social issues such as environmental problems by improving the quality and production efficiency of manufacturing worldwide.
In recent years, expectations have increased that the Yaskawa Group, as a forerunner with products such as servos drives and industrial robots, will address labor savings amid labor shortages and ensure stable production amid the COVID-19. At the same time, manufacturing industries worldwide are undergoing rapid changes, including advances in management and production that use digital data and artificial intelligence (AI).
Against this backdrop, our group has been proposing and implementing the i3-Mechatronics solution concept since 2017. The three i's in the i3 stand for integrated, intelligent and innovative, and in addition to the conventional production automation using our AC servo motors, AC Drives and industrial robots, we are working to utilize the digital data generated when machinery and equipment are actually operated. Through this, we will provide customers with improved value through increased productivity, ensuring high quality, aiming for a continuous line of predicting equipment breakdowns.
As an internal practice at i3-Mechatronics, we promote the integration of functions in the group's technology development, manufacturing, and sales. One of these efforts involve the integration of technology development functions. In September 2021, the Yaskawa Technology Center was put into full operation as a technology development base covering all aspects from design and prototyping through production line construction. We aim to develop more competitive products by establishing a technology development structure that quickly responds to customer demands and promotes open innovation.
In our long-term business plan, Vision 2025, we set "factory automation and optimization" and "application of mechatronics" as our business domains with mechatronics, with operating profit as an essential management indicator for financial targets. As one of the measures to achieve this target, we have been promoting YDX (Yaskawa Digital Transformation) since 2020 to visualize management information and unify global data for the technology development, manufacturing, and sales in the Yaskawa Group. Now in its second phase, YDX aims to build a robust supply chain as well as further enhance its ability to respond to the market by improving the linkage between quality and service information as well as product development. We are also incorporating the SDGs into our management strategies to achieve sustained growth in corporate value. For example, on the environmental front our power-conversion technology contributes greatly to CO2 reduction by helping various industries save energy and utilize renewable energy.
In FY 2023, we will strengthen efforts to capture demand in growth markets such as EV and batteries, semiconductor-related products, and food / agriculture, which are expected to continue expanding. We will pursue creating a business model that contributes to the progress of a sustainable society toward the realization of the Yaskawa Principles.
We ask all of our stakeholders to keep an eye on our group's sustainable growth and continue to support the group.