Coexistence and Co-creation with Local Communities
At our global locations with production and business sites, as well as in the city of Kitakyushu, where Yaskawa is headquartered, we will actively participate in local events, promote sports, and provide a venue for dialogue with domestic and overseas guests and industry-academia-government communications, in an effort to contribute to society and promote co-creation with the local community.
Promotion of Culture and Sports
Support for "Giravanz Kitakyushu"
"Giravanz Kitakyushu" is a professional soccer club that belongs to the Japan Professional Football League (J. League), and is headquartered in Kitakyushu City. In 1947, Giravanz's predecessor, Mitsubishi Kasei Kurosaki Soccer Club was founded. In 2010, the club became the 5th J-League member in the Kyushu region after Roasso Kumamoto and the 2nd J-League member in Fukuoka Prefecture after Avispa Fukuoka. Yaskawa is an official sponsor of Giravanz Kitakyushu.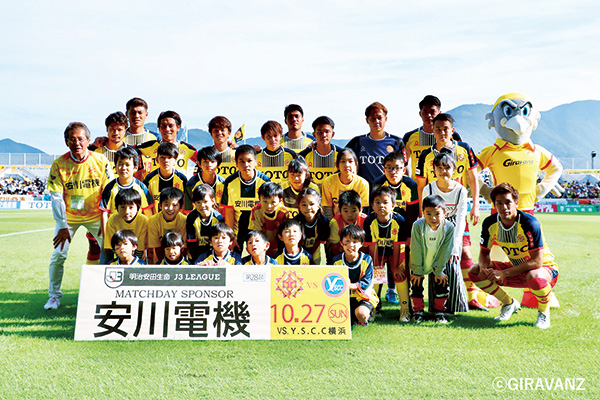 Master Shiko Munakata and Yaskawa
An Encounter between Yaskawa and Master Shiko Munakata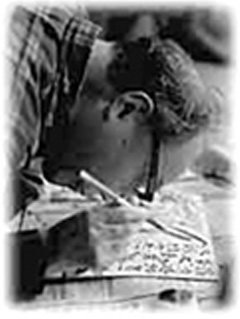 The Master at work
It began in 1951 when the head of advertising's strong interest in prints created by Master Munakata culminated in a visit to the Master's studio in Ogikubo. That first encounter became a lifelong relationship as Yaskawa commissioned one Munakata piece after another to grace our facilities as well as our promotional magazines. Some of the Master's extraordinary pieces eventually evolved into a series of calendars.
Master Munakata was not a leading woodblock print artist in 1951, and, in fact, he was virtually unknown. However, he exhibited his piece "Nyonin Kanzeon" at the International Exhibition in Lugano, Switzerland that same year, and became the first Japanese artist ever to win the coveted top prize there. His print "Shaka Judaideshi" won the Grand Prix at the Sao Paolo International Art Exhibition in 1955, and a series of subsequent wins brought Master Munakata international acclaim. This was soon followed by widespread recognition in Japan as well. International fame never affected our relationship with the Master, and we are honored that he played such an invaluable role in our corporate history and culture over the years.
Nyonin Kanzeon print from Aomukehi no Saku Won first prize at the International Exhibition in Lugano, Switzerland

Shaka Judaideshi selection from Shaributsu no Saku Won the Grand Prix at the Sao Paolo International Art Exhibition
Master Munakata and "The Yaskawa calendars"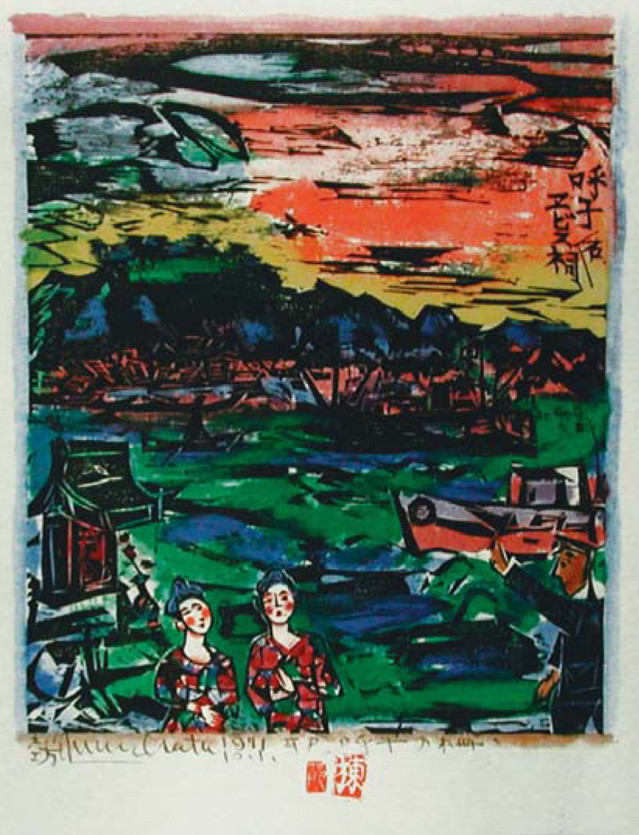 Nishi Kaido Munakata Woodblock Prints Hirato Yobiko no Saku
Yaskawa has been producing calendars displaying the works of Master Munakata since 1958. These calendars were sent out to customers at home and abroad, and they have always been extremely popular. Although countless calendars are produced in Japan today, not one of them has been dedicated continually to the works of one artist for so long.
The Yaskawa calendars are distinguished by extraordinary works of art derived from poetry penned by the Master himself. Another striking feature is that the true beauty and natural talent found in the original works were painstakingly reproduced by printing every stunning piece on handmade Japanese paper. Each piece can be removed from the original mounting, remounted and framed for years of enjoyment long after the calendar year has gone.
Many brilliant pieces have appeared in the Yaskawa calendars over the years, but the most notable calendars have to be the Kaido Series that began with the Nishi Kaido Munakata Woodblock Prints from 1971. These truly original collections were the result of close collaboration between Master Munakata and Yaskawa both in the planning and in the journey to gather the materials that were used. No one was more enthusiastic about making the calendars truly great works of art than Master Munakata himself. He wanted others to draw from life, to enjoy beautiful scenery, and to experience the delicacies of provintial areas. The calendars make it clear that he wanted others to enjoy the journey as well.
Visit the Shiko Munakata Museum for details on the works and life of Master Munakata.
Sponsorship of literary coterie magazine "Kyushu literature"
Yasukawa Electric Kyushu Prize for Literature
"Kyushu literature" was launched in 1938 by Ashihei Hino and Shunsaku Iwashita, who were active mainly in the Kitakyushu region, with a view to expanding literary activities in the region.
Although the magazine is a regional literary magazine, it is highly regarded as a gateway to the literary world for newcomers. To date, many Akutagawa and Naoki Prize candidates have been selected from its publications and writers, including Ashihei Hino, Shunsaku Iwashita, and Taneo Harada. Also, "Maboroshi no Yamataikoku" released in the magazine was made into a movie starring Sayuri Yoshinaga and others in 2008.
Yaskawa has contributed to the invigoration of cultural activities in the Kyushu region by holding the "Yaskawa Electric Kyushu Prize for Literature" in the same magazine since 2015.
Disaster Recovery Support
In the summer of 2020, the company and the YASKAWA Mirai Club made donations to help people affected by torrential rain disaster recover their lives.
Community Exchanges
We are working to build a better relationship with the local community by interacting with the local community through factory and site tours, social experience programs, sponsorship of local soccer teams, and participation in local events.
Activities utilizing Robot Village
Since Yaskawa opened Robot Village at its head office in Kitakyushu on June 1, 2015 as part of its 100th anniversary project, the YASKAWA Innovation Center, an integral facility at the village, has welcomed more than 150,000 visitors as of October 2019. Embracing our hopes to nurture children who are our future and to express our appreciation to the people of the community who have supported us since our establishment, our guides and every one of our staff members aim to deliver the appeals of Yaskawa to the visitors to deepen their understanding for our company.
We will continue to use Robot Village as a contact point that ties Yaskawa with the community by continuing to vigorously take part in local events, offer inspection tours to customers from both Japan and abroad, and as an avenue for communication between industry, government, and academia for our group to co-exist with the community.
Participation in various events with "YASKAWA-KUN"
As part of our efforts to utilize industrial robots for non-manufacturing applications, we have continued to open stores at various events with our "YASKAWA-KUN " ice cream robot, which was launched in the summer of 2010. Not only children, but also adults who don't usually see industrial robots enjoy it.
Agricultural experience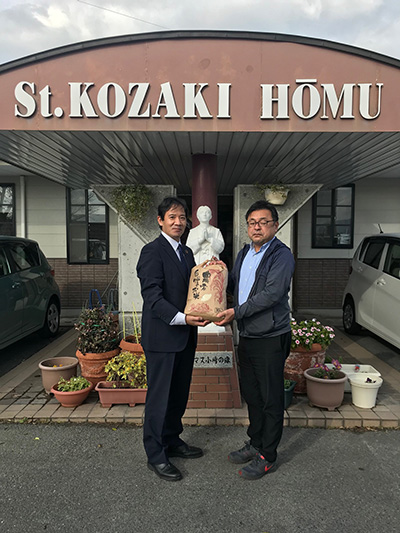 Donation of the harvest
We rent rice paddies and farmland owned by former Yaskawa employees to provide children with opportunities to experience agriculture, interact with nature, and experience the changing seasons. The purpose of these activities is to encourage children to take an interest in environmental protection and nature conservation activities, as well as to make them feel the importance of everyday meals.
Donation of books to Librio Yukuhashi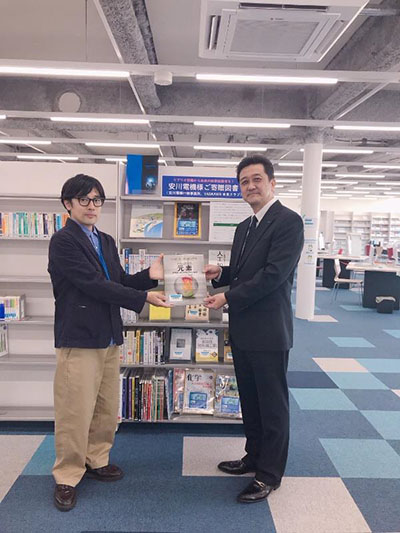 Donation of the books
"Librio Yukuhashi" is a newly established educational and cultural facility with library and hall in Yukuhashi City. Based on the concept of "Exchange space where children, adults and the elderly can gather and learn from each other", it opened on April 1, 2020 as a new base for regional exchange and a facility to disseminate culture and information.
Yaskawa donated more than 100 science magazines and books on SDGs with the aim of fostering future scientists and regional symbiosis as a company originating in Kyushu.
Global Social Contribution Activities
United States
IMPACT Corporate Giving Program
Yaskawa established the IMPACT Corporate Giving Program (IMPACT) to support donations and volunteer activities through company-sponsored programs and initiatives.
More than 300 hours of volunteer work were provided for the Radio Reading Services program to help people with vision loss or reading difficulties, and employees have collectively raised over $25,000 for community charities through various events.
In addition, IMPACT supports local communities through a variety of activities, including organizing a year-round food drive to support The Foodbank (a member of Feeding America), which supplies food assistance to local households.
IMPACT members delivering toys to a local children's hospital

Natural restoration activity
India
Group blood donation held
Group blood donations were conducted at the Bengaluru and Gurgaon offices of Yaskawa India. A total of 82 employees who passed the donor test participated in blood donation.
Many people in India also need blood transfusions. In particular, patients with thalassemia, a blood disorder, need blood transfusions once every 15 to 20 days, and the blood center that came to the Yaskawa office this time provides blood to more than 1,800 people per year. We hope this donation will help those who need blood transfusions.
Blood donation at Bengaluru office

Blood donation at Gurugram office
South Korea
Provided support kits to medical staff
Yaskawa Electric Korea organized a volunteer activity for medical staff who are making efforts to respond to the new coronavirus.
Under the banner, "SEPARATE & TOGETHER", we connected our offices via the Internet, and packed with gratitude the support kit (500 boxes for health foods, snacks, hygiene products, etc.) containing items necessary for medical staff, together with messages of support.
The support kits were delivered to two hospitals in Daegu, where Yaskawa's robot center is located. We are developing social contribution activities in various fields including this volunteer activity and plan to continue them in the future.
Donation of support kits

Employees packing kits
China
Robot Center Receives Visitors from Educational Institutions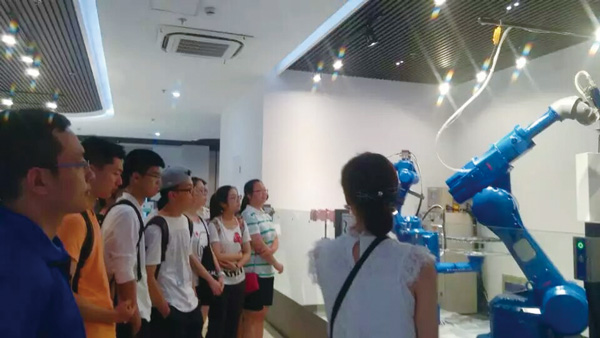 Students on a tour at Shanghai Robot Center
Since opening its Shanghai Robot Center in 2014, Yaskawa has been receiving visitors from many educational institutions including junior high schools, vocational schools, and universities. Photo shows students from Department of International Studies of Shanghai Southwest Weiyu Middle School on a visit where they appeared fascinated by the various movements of the robots and the demonstration products for AC servos and AC drives. The heated inspection tour continued at the adjacent After Service Center that offers follow-up services for the repair and maintenance of Yaskawa products.
Europe
Participation in The Baltic Sea Circle Rally, a Charity Event
Between June and July 2016, two engineers at Yaskawa Europe drove a distance of more than 7,500 km to Nordkapp (North Cape), the northernmost point of Europe, collecting funds for charity. The collected funds were used to support an organization that is dedicated to child welfare and the eradication of child poverty.
Thailand
Free seminar held at Thai Robot Center
Yaskawa Electric Thailand held a free seminar for nonprofit organizations to contribute to the development of human resources and the promotion of the next generation of the industry sector. More than 50 people from the Technology Promotion Association Thailand-Japan visited Yaskawa's Robot Center in March 2017 where they watched and experienced demonstrations and seminars on the latest robotics technology.
Japan
Japanese Organization for International Cooperation in Family Planning (SAKURA Project)
Yaskawa participates in international support activities to help children, especially girls with poor educational opportunities, attend school by donating school bags which completed their mission to Afghanistan.
The Japanese Electrical, Electronic and Information Union, of which the Yaskawa Electric Labor Union is a member, calls on members in each region to donate school bags and collect them.
Yaskawa cooperates with the union to make an internal announcement and bears the shipping costs to the warehouse and overseas shipping costs for the school bags. In fiscal 2020, we sent 39 school bags to Afghanistan.