More than 2.7 million * industrial robots are in operation around the world * as indispensable equipment for the production of automobiles, home appliances, PCs, smartphones, and other products in factories and other places that are rarely seen in everyday life. Yaskawa announced the Japan's first all-electric industrial robot under the brand name MOTOMAN in 1977, and since then we have shipped nearly 500,000 units all over the world.
*International Federation of Robotics (IFR) published values in 2020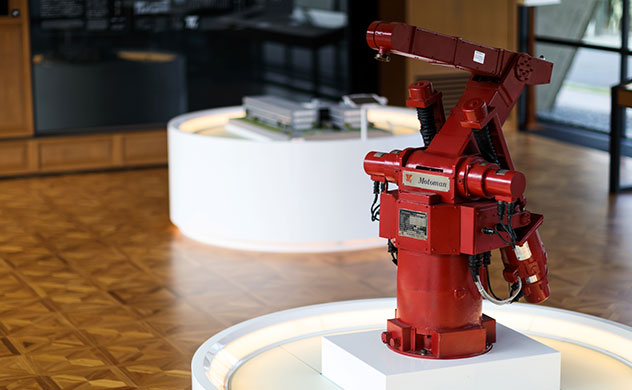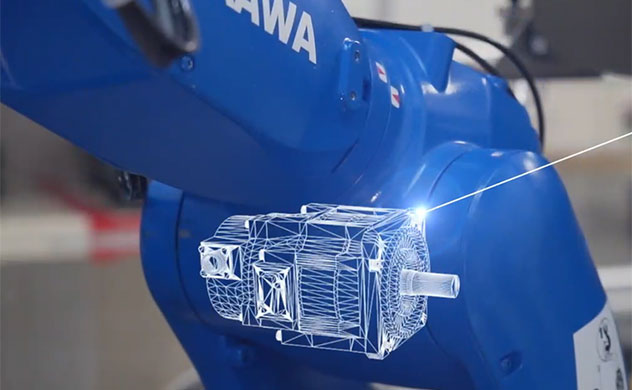 Yaskawa develops and optimizes servo motors which are the main components of industrial robots MOTOMAN by ourselves. Aside from control software technology that maximizes this capability, we are developing industrial robots by integrating application technology that realizes optimum robotic structures and functions for applications such as welding and painting.
In response to current trends such as IoT, Industrie 4.0, and artificial intelligence (AI), Yaskawa is promoting i³-Mechatronics as a solution concept for realizing a new industrial automation revolution. Yaskawa's robotics core products realize this concept. By collecting, accumulating, and analyzing the state of the servo motors that make up the body and the results of operations, they contribute to improving productivity and quality through the stable operation of facilities and lines at customers' production sites.
Besides automobiles, Yaskawa's industrial robots are now used in a wide range of industries, including electric and electronic equipment, semiconductor manufacturing, biomedical, food, medical products, logistics and so on. Let us introduce what is our robotics products and what kind of robots are active in each industry.
Industrial Robots that are Active in a Variety of Fields
Robotic Applications in which Industrial Robots Work
Product Lineup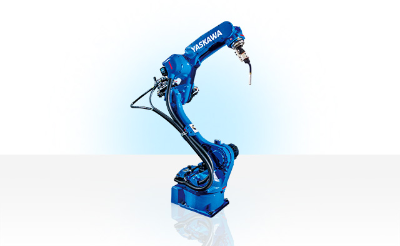 Arc welding robot
Arc welding is mainly used for automobiles parts such as mufflers and has a welding bead that is formed by lines. This requires a high motion control technology for stable welding. Yaskawa has developed servo motors at their own factories. As a result, high-quality beads can be produced through arc welding. Additionally, Yaskawa provides an AI-powered robot controller to adjust the angle of the torch to minimize sputtering or sparks that fly from the body frame.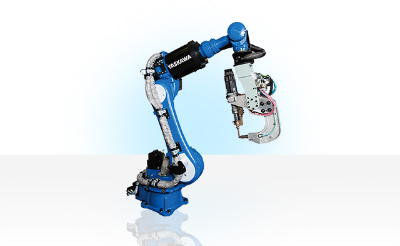 Spot welding robot
Spot welding that involves the usage of high currents requires a large robotic arm because it equips a large and heavy welding gun from the wrist. Spot welding is mainly used to create bodies for automobiles. Furthermore, Yaskawa's spot welding system offers extensive simulation software. This makes it possible to install many robots together within a limited space.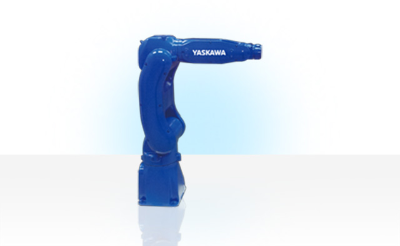 Handling/Assembling robot
The handling/assembly robot is a small robot that can carry normaly less than 10 kg. However, the robot can be used for various purposes by incorporating it into production lines. The reach is as long as a person's arm. This makes it good for transporting objects from side to side at high speed.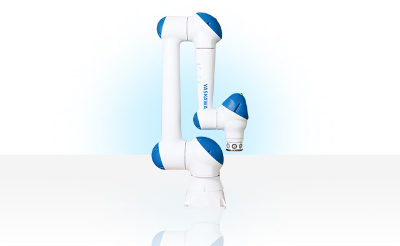 Collaborative robot
Visit at special site
Until recently, industrial robots could only work inside safety fences. However, with the advent of human collaborative robots with built-in safety systems, industrial robots can be placed next to workers. This eliminates the need for extra spacing required for fencing. Collaborative Robots, especially the user-friendly ones are suitable for small or medium-sized companies, which have expanded their presence within the market. Additionaly, robotics are making an appearance and usage in the industry that was not used before, such as food.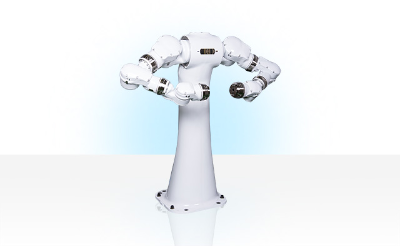 Biomedical robot
Industrial Robots usage has increased within the biomedical field. For example, biomedical robots are used in environments that require high cleanliness, such as genomic analysis, PCR testing for COVID-19, drug discovery, or salmonella bacteria testing, etc.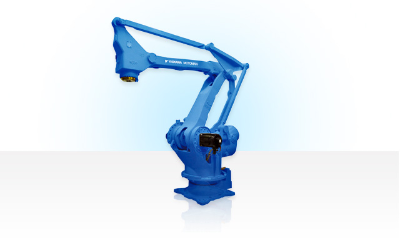 Palletizing robot
The variety of applications for using industrial robots such as palletize beer can cases, detergent bottles, and egg conveyance is limitless. Furthermore, these require tasks to be performed with high repeatability. This is especially the case for industries such as food and pharmaceuticals. And it is one of Yaskawa's commonly sold products.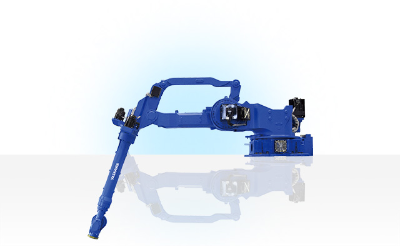 Press handling robot
The pressing process for automobile bodies requires the transportation of heavy, wide, and sharp-edged iron plates, and industrial robots have long been required to automate and improve efficiency. Yaskawa offers highly productive models in our lineup.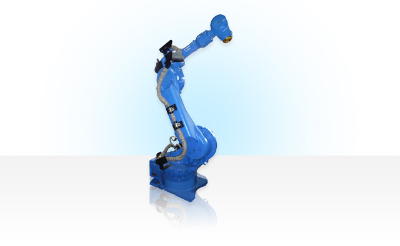 Sealing/Cutting/Laser machining robot
In automobile production, the application of sealing materials and laser processing of sheet material is created by using dedicated jigs. In particular, in order to improve this quality, we can digitize the applied and irradiated path, amount and moving speed, which can result in improved production.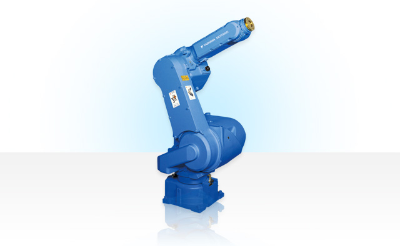 Deburring robot
Burrs appear from sliced metal edges, and it is difficult to deburr each piece by hand to clean up. Therefore, industrial robots was introduced to make deburring easier and safer by preventing them from flying.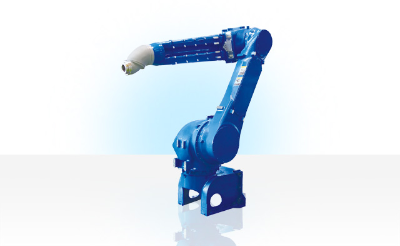 Painting robot
Industrial robots for painting applications are now used in many areas, including not only the conventional demand for painting the bodies of automobiles and motorcycles, but also small objects and home appliances. High-end car lines spray paint over and over to thicken it, and it requires a high technique that ensures uniform painting. This robot is one of Yaskawa's top applications.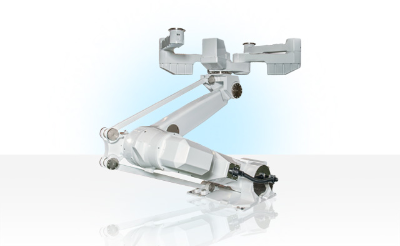 Glass substrates transfer robot
Yaskawa also offers robots that can perform actions that cannot be done by humans. The robotic application of transporting LCD glass substrate, large and very thin LCD substrates used commonly in TVs, PCs, or smartphones, and vertical articulated type that can freely change the posture of the object to be transferred.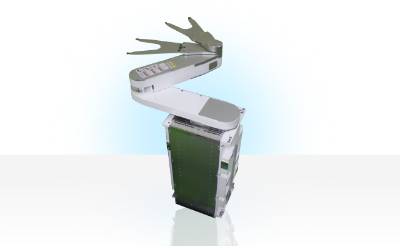 Semiconductor wafer transfer robot
The mainstream size of semiconductor silicon wafers is 300mm in semiconductor market, and the transfer process requires high-speed transfer and ultra-high repetition accuracy. At Yaskawa, the pursuit of high accuracy and low vibration resulted in the introduction of a model that uses a direct drive system with a DD motor to meet customer requirements for absolute positioning accuracy of 0.05 mm and repetitive positioning accuracy of ±0.025 mm*. *Environmental conditions are required.