Diversity and Inclusion
Diversity and Inclusion
In Vision 2025, our long-term business plan, we set a target of diversity promotion (diversity in our human resources) and are making efforts to create a culture where we can leverage the strengths of diverse human resources. Aiming to advance the company and strengthen its competitiveness in order to respond to a rapidly changing global market promptly, we have positioned the three following items as our mission in promoting diversity in our human resources:
1. To construct a corporate constitution strong against environmental changes by adopting and fostering human resources with diverse values and ways of thinking.
2. To incorporate diverse opinions and viewpoints to create a corporate culture where innovation arises as a matter of course.
3. To realize a satisfying working environment by eliminating all factors of discrimination and respecting the individuality of employees.
Initiatives till fiscal FY2021
The promotion of work-life balance through workstyle reform is key for promoting diversity and also, we position that balance as being indispensable for corporate development and are initiating it positively. Through such measures as flexible hours, taking accumulated holidays by unit of hours, and the use of the system for working at home, the employees are now able to work in more flexible and more diverse ways.
Furthermore, the system for working at home will be expanded company-wide in fiscal 2021, and flexible work styles can be selected regardless of location or time increased productivity and made it possible to gain successful results.
In support of life events, we have also hosted discussions with bosses who support employee childcare and made efforts to create frameworks for people who take childcare leave so maternity and childcare would not become detrimental to their careers (leaving work, slowdowns in career development).
Furthermore, as part of our social contribution activities, we continue to hold Girls' Day* for junior high school students with hopes that they would become interested in technical jobs. We also have planned a programs/activities to deepen the interest of junior and senior high school students in manufacturing through hands-on experience.

Girls' Day
*:Girls' Day is an event that originates in Germany, where introductions are offered for jobs in the science and engineering field which may not be too familiar in everyday life, piquing the interest of participants as they have fun.
Promoting Non-Gender Diversity (Persons with disabilities, foreign employees, etc.)
Yaskawa aims to be a company where diverse human resources can work energetically in their respective ways of working. Yaskawa's efforts to promote non-gender diversity include the following.
Initiatives for employees with disabilities
We aim to create a workplace environment in which all employees with disabilities are able to grow their abilities and work together in harmony, respecting each other's personalities and individuality, without being separated by the presence or absence of disabilities.

In 2020, a "Handbook for accepting employees with disabilities" was created to summarize the key points for smooth acceptance of employees with disabilities by the workplace, and is distributed internally through the "website for employment of persons with disabilities".
Initiatives for foreign employees
As Yaskawa Group has bases all over the world, the percentage of employees with foreign nationality has been gradually increasing. Foreign employees now account for about half of our consolidated employees, and human resources of various nationalities are active in each base.

The Robot Division has been engaged in global personnel exchanges since fiscal 2017. By accepting young employees from Yaskawa Group's overseas subsidiaries for a short period of time (About 1 – 3 months) and by engaging in direct exchanges with business associates regardless of culture or language, we are striving to deepen mutual understanding, strengthen relationships, and create collaborative opportunities. In addition, they deepen their personal exchanges and listen to opinions on what is necessary to create a comfortable working environment for people from overseas.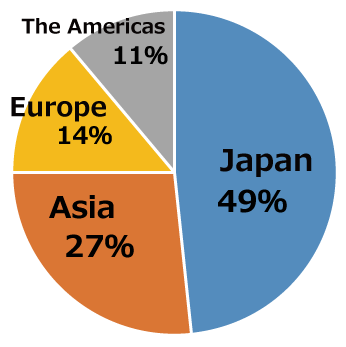 Employees by Region (As of February 28, 2022)
Initiatives for LGBTs
We believe that we need to have the right knowledge and understanding to ensure that false knowledge, understanding and assumptions do not harm LGBTQ parties or hinder their exercise of abilities.

As a first step, we conducted employee awareness surveys in fiscal 2018 and 2019, and 96% of respondents positively responded to a question asking if they understood that prejudice and incomprehensible behavior against LGBT are human rights issues. We will continue to work to gain a broad understanding of human rights.
Data by gender for full-time employees of Yaskawa Electric
Yaskawa Electric is proud to have built a work environment where the average age and average number of years in service are no different between male and female staff, and women are able to continue to work while raising children. However, female leaders are still few in number: 5 managers and 45 assistant managers. We will continue to provide career support in line with the Action Plan for the Advancement of Women.
Gender ratios in new hires (FY2021)
| | Total |
| --- | --- |
| Females | 17 (17.7%) |
| Males | 79 (82.3%) |
| Total | 96 (100.0%) |
Difference in average number of years of employment for males and females (As of February 28, 2022)
|   | Number of full-time employees | Average Age | Average years of engagement |
| --- | --- | --- | --- |
| Females | 396 | 41.6 | 17.2 |
| Males | 2,917 | 42.3 | 19.1 |
| Total | 3,313 | 42.2 | 18.9 |
Percentage of Woman
12.0%
Average number of overtime hours worked by employees per month (FY2021)
|   | Overtime hours |
| --- | --- |
| Females | 12.0 |
| Males | 20.2 |
| Total | 19.1 |
Ratio of female employees in management positions (As of February 28, 2022)
|   | Managerial position | Ratio  | Assistant manager | Ratio |
| --- | --- | --- | --- | --- |
| Females | 5 | 0.8% | 45 | 4.6% |
| Males | 597 | 99.2% | 923 | 95.4% |
| Total | 602 | 100.0% | 968 | 100.0% |
*Figures for managerial position include section chief or higher.
Ratio of promotions to department or section chief (average for the three most recent business years)
|   | Ratio of those promoted |
| --- | --- |
| Females | 9.5% |
| Males | 7.4% |
Ratio of parental leave taken by breakdown of males and females (FY2020)
| | Ratio of employees who took parental leave |
| --- | --- |
| Females | 100.0% |
| Males | 19.6% |
Ratio of paternity leave taken by employees (FY2021)
 
Ratio of male employees
who took leave on childbirth
Males
63.9%
*At Yaskawa, employees are entitled to a paternity leave (five days when the spouse is giving birth to a child) in addition to parental leave.
Ratio of paid holidays taken by employees (FY2021)
| | Paid leave provided | Paid leave taken | Utilization rate of paid leave |
| --- | --- | --- | --- |
| Total | 20 days/people | 15.4 days/people | 77.2% |
*The figures above do not apply to company officers, part-time employees or contractors, elder or senior staff, or dispatched workers.
Status pertaining to diverse career paths (total for the three most recent business years)
 
Measures
People
Past
3 years
Employment of temporary staff as regular employee (Females)
1
Mid-Career employment by women aged 30 or older
3
Status of Progress on Action Plan Based on the Act on Promotion of Women's Participation and Advancement in the Workplace
We were able to achieve our goal of 1 -1 and expand the scope of women's work. Adoption of Goal 1 -2 was not achieved, even though we made some progress. With regard to the promotion of women to managerial positions (Goal 2), the ratio of women in managerial positions remained unchanged, but the promotion of women to assistant managers has advanced more than ever in recent years.
Issue 1: There are few avenues for female employees to perform.
< The number of departments for women to be assigned are limited.
< Few female employees are hired.
Issue 2: There are few women who aim for managerial positions.
< Equality has not been secured for equal opportunities for advancement.
(Due to interruptions in individual career paths for marriage and/or raising children)
And Yaskawa has established objectives for 2016-2018 to resolve these issues.
Objective 1-1: To assign female employees to six or more departments which do not currently have female workers.
Objective 1-2: The objectives for hiring in FY 2018 are as indicated below:
・Ratio of females out of the total number of hires: Greater than 1.3 times the ratio of female hires in FY 2012-2016.
・Ratio of females comprising clerical positions: Greater than 55%.
・Ratio of females comprising technical positions: Greater than 1.6 times the ratio of female hires in FY 2016.
Objective 2: The objectives for the appointment of female managers in FY 2018 are as indicated below:
・Total number of females in managerial positions: Greater than three times the number in FY 2015.
・Total number of department managers who are female: Greater than 1.5 times the number in FY 2015.
・Total number of department or section chiefs: Greater than five times the number in FY 2015.
Since fiscal 2019, we have formulated a new action plan based on these issues. In the future, the motivation of female manager by strengthening recruitment to form a wider population.
Goal 1: Increase the ratio of female entrants to lead to employment
*Increase the ratio of women to at least 125% of 2018 entrants
Goal 2: Increase the percentage of women who promote to be managers, leading to the formation of a management population
*Ratio of women seeking managerial positions: 23% or more in fiscal 2021
The training will be conducted mainly on the job learning(OJL), but we are actively expanding our perspectives and building networks through external parties and collaborative project with other companies.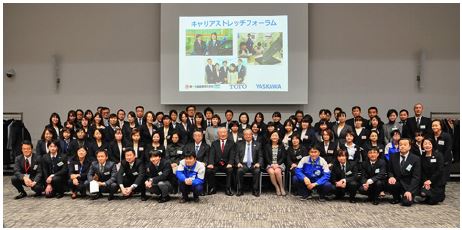 "Career Stretch Forum" held jointly with other companies