CTO Message
We will further expand our development capabilities at Yaskawa Technology Center (YTC), a new development base integrating human resources and data.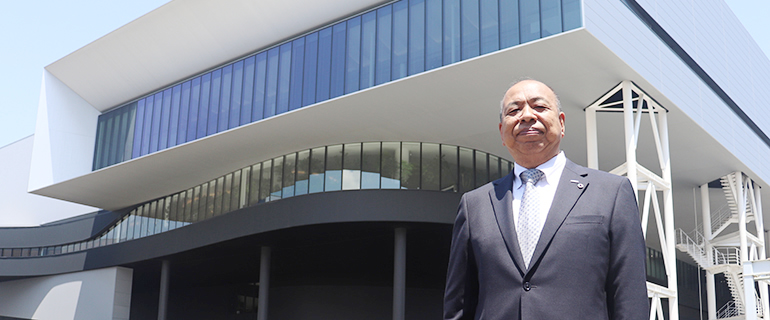 Yaskawa's technologies originate with in-house production of three-phase induction motors. After experiencing manufacturing and sales of electrical coal-pit equipment for coal pit hoist etc., we have made contributions to the electrification and automation of industry taking geographical advantage of Kitakyushu. This has led us to engage in the present system engineering business.
At the same time, focusing on factory automation, we advocated the mechatronics concept earlier than anybody by combining mechanism and electronics, in order to dramatically improve functions and performance of customers' machines. This concept led the company toward the Motion Control business and the Robotics business, and since then, the key technology development of the company have been motors and their applied technologies such as "motion control," "robotics technology," and "power conversion." We are confident in our control technology as the world's highest level.
In order to realize the "new industrial automation revolution" mentioned in the long-term business plan "2025 Vision," we propose "i³-Mechatronics," a solution concept incorporating digital data management as an advancement of mechatronics. We are accelerating technological development with the background of providing new integrated solutions with competitive components and digital data management. To realize "i³-Mechatronics," by close solidarity with business divisions and sales team, we will grasp the customer's needs accurately and take it in the technology development, thereby providing new value to customers.
The Yaskawa Technology Center, a development base that covers a full range from basic technology development to mass production prototyping, began full-scale operations in fiscal 2021, in order to further strengthen its capabilities to respond to changing market needs.
In fiscal 2022, we will continue to pursue innovative and efficient development at YTC, which brings together engineers and data distributed at each site, and will strive to develop the world's first and best technology by strengthening cooperation with external partners.
Please keep your eyes on our new technologies and products.
Akira Kumagae
Director
Managing Executive Officer