Human Rights Due Diligence
In accordance with the United Nations Guiding Principles on Business and Human Rights, we have established a human rights policy, human rights due diligence and mechanisms for remedial measures.
Through these initiatives, we will continuously respond to ever-changing social demands and challenges regarding human rights.
Human Rights Due Diligence
We will make appropriate and continuous efforts for human rights.
Specifically, we will identify and assess negative impacts and risks on human rights, implement appropriate measures, conduct follow-up surveys and monitoring, and disclose information.
Remedial measures
Consultations are received through the monthly ES (Employee Satisfaction) survey (for all non-consolidated employees) and the whistle-blowing system (Compliance Hotline), and appropriate measures are taken.
Image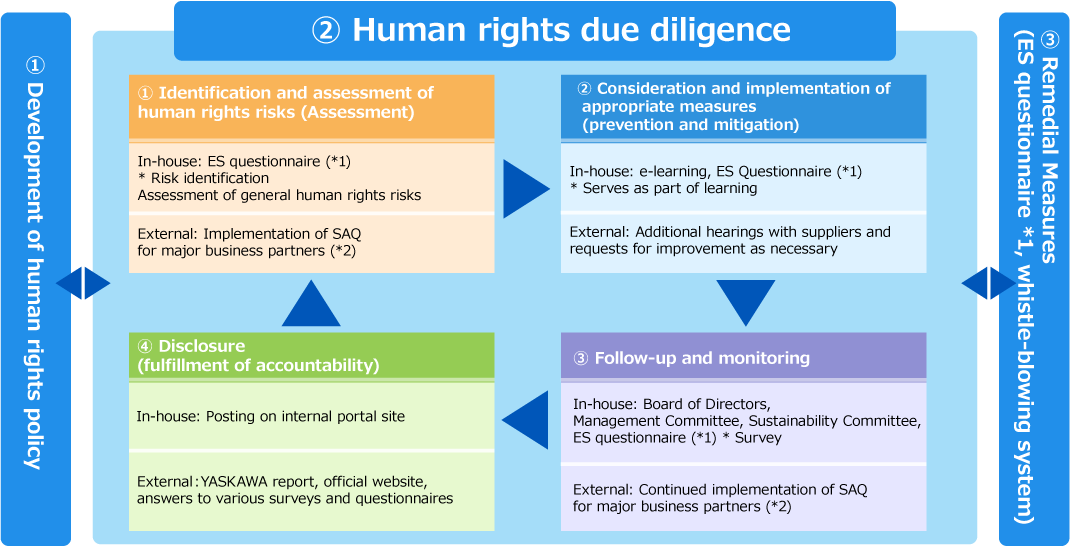 (* 1) ES questionnaire ・・・ Employee satisfaction survey (non-consolidated, monthly)
(* 2) SAQ (Self-Assessment Questionnaire) ・・・ Self-questionnaire