Relations with Customers
We aim for improving customer satisfaction through assuring safety and security with our customer first policy.
Initiatives for Delivering Satisfaction
The mainstay of our management philosophy is "to maintain a strong commitment to meet the needs of customers". This tradition has continued since the startup period till today. The Yaskawa Group aims to achieve total customer satisfaction (CS) by offering not only the quality of products but also quality of service and creation of customers' value.
Practicing Management Based on CS Principles
Yaskawa aims for the improvement of customers' value through management based on CS principles. This is an initiative to improve the quality of our work and productivity to create value for our customers. We are also holding interactive gatherings between executives and employees, among other such measures, to disseminate the CS philosophy.
Quality Management Practices Based on CS Principles
Initiatives to Improve the Overall Quality of Our Work
K30 activities (K: koritsu, or efficiency; 30: 30 percent improvement) are activities for improving the productivity of each individual.
We value correlations between key goal indicators (KGIs) and key performance indicators (KPIs) and deploy our top-down K30 activities as we aim for improved productivity from the management standpoint. Additionally, we practice our QC stories through our improvement activities under the slogan, "full participation for greater than 30 percent improvements in work efficiency" in our KAIZEN30 initiatives to boost our capacity to resolve issues and challenges that will tie in to an improvement in our corporate structure.
Initiatives to Improve the Overall Quality of Our Work
Penetration of Quality Improvement Capability
We fulfill our social responsibility as we develop a culture and capacity for improvement of quality of our work. In particular, we aim to increase our capacity for quality based on a foundation of KAIZEN activities and stronger human resources development, and to build quality into our products through an emphasis on processes.
Initiatives to Ensure Safe Use
Product Safety
In order to make sure that our customers use our products with confidence, the most important thing for us is product safety assurance from the very beginning. This is why at the product development stage we perform risk assessments to make sure that products are sufficiently safe, make our products compliant with international standards, verify them and hold safety inspection meetings, among other initiatives.
We also respond immediately and appropriately in case of trouble and have a global emergency communications network in place.
We also do internal training and provide activities to raise awareness of product liability. Our Buds of PL initiative* is a continuous activity that aims to bring an awareness of problems to internal and external safety information and constantly pursue high targets.
* Buds of PL (product liability) is a program for fostering a culture that uses near-accidents, etc., to nip product liability problems in the bud (i.e., develop a product safety culture) and thereby fulfill our product responsibility; it is also a general name for all safety improvement initiatives.
Activities to Build in Product Quality and Reliability
The causes for market defects in products are largely broken down to two factors: issues involving the design and issues involving parts, and are said to comprise 60 to 80 percent of all causes. In order to build in quality and reliability from the start of its development, Yaskawa sets up environmental resistance levels for each product to meet market/usage conditions at planning stage, and makes efforts to design and evaluate its products by leveraging tools and methods such as simulations, quality engineering, and HALT. Additionally, it pursues appropriate quality in the parts and materials.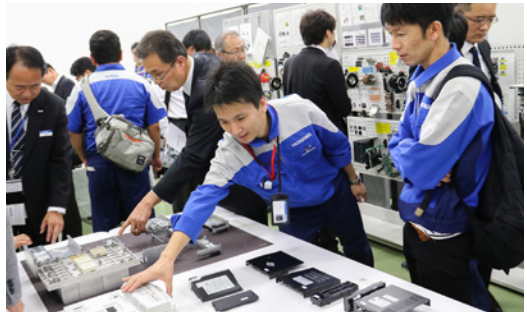 Activities to look for appropriate quality in adopted parts
Quality Improvement
Defects information from customers is collected and analyzed online by our company-wide Field Quality Information System and reflected in quality improvement initiatives. In particular, this process leads to cross-organizational deployment to prevent recurrence and initiatives to prevent problems during new product development.
Strengthened Measures to Meet International Safety Standards
As various electric and electronic devices are used all over the world, and manufacturers are demanded to ensure EMC* scale for their products not to create electromagnetic noise that will impact peripheral devices, systems, and the social environment on a global scale. Setting up an EMC testing facility at its head office in FY2017 and receiving a certification from TÜV Rheinland as the designated aboratory, Yaskawa has become possible to conduct everything from tests to obtaining certification in a consistent manner. This has enabled us to not only reduce the development time but also supply safer, securer mechatronics products to our customers in a prompt manner.
* EMC: Abbreviation for Electromagnetic Compatibility: refers to the absence of negative effects on the movements of other devices or systems caused by electromagnetic interference released by the motion of electric or electronic devices, or the lack of impact received by electromagnetic interference from other devices or systems to procure proper functionality in a continuous manner.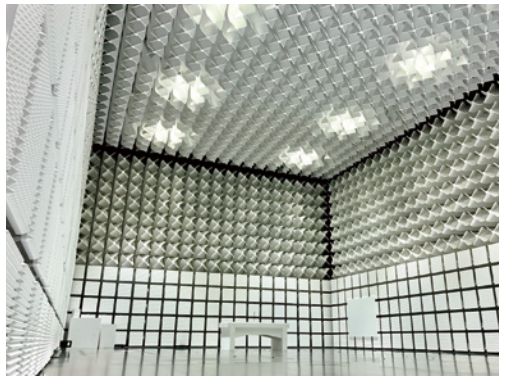 Interior of EMC testing facility
User School
For users to get the most performance out of our products and use them safely, the most important thing is basic knowledge. We offer Motion Control School for customers of our AC drive and servo (general-purpose) products. We teach two ways: the school-like training in which an instructor explains a product directly; and e-learning, where customers learn over the Internet. Details are available at our e-Mechatronics site (http://www.emechatronics.com/).
Yaskawa Motoman Engineering Corporation moreover offers Robot School, teaching operation and maintenance of robots and robotic related products.
Test Runs and Service
Adjustments and test runs by our trained engineers are available to check the compatibility of the customer's equipment with our products as well as to improve overall machine/equipment performance. The entire Yaskawa Group renders support on a global basis for preventive maintenance and recovery at the time of any failure.
After the Production Stoppage
In principle, repair parts for discontinued products are not distributed. However, long term maintenance for customer's equipment can be arranged in cooperation with Yaskawa Group companies and our affiliated service companies.