Relations with Employees
Human Resource Utilization
In order to bring out the full potential of our global human resources and diverse talents, we engage in various diversity promoting activities. Also, through realizing work-life balance, etc., we are furnishing pleasant working environments while valuing the individuality of the employees.
Promotion of Diversity
As part of its long-term business plan "Vision 2025" announced in March 2015, Yaskawa is performing various activities under the theme of promoting diversity (human resources diversity) to create a corporate culture that can bring out the strengths of the diverse human resources.
Background of Diversity Promotion at Yaskawa
The ability to come up with new ideas and perspectives, rather than being constrained by conventional mainstream ideas, is necessary for the true globalization of a company and the cultivation of new markets. For that, diverse human resources with different attributes such as gender, age, and nationality, different values and experiences are indispensable.
And for such human resources to perform to their full ability, it is crucial that choices are made available for diverse styles of working, taking into consideration various family situations and lifestyles and offering flexible responses on the part of the company.
The Yaskawa Group declares that it will continue to both aggressively and continuously promote diversity as it aims to create a system for human resources and work styles that enable all employees to perform and shine.
Basic Policy for Diversity Promotion
We established the Diversity Management Division led by the president in September 2014 to deploy diversity promotion measures with the following three missions.
Yaskawa regards the promotion of work-life balance through reformation of the way of working to be pivotal to diversity promotion and at the same time positions these as the wheels of a vehicle for corporate advancement. By examining flexible and diverse ways of working and personnel systems and tying up with the "K30 promotion activities" aimed at increasing the business efficiency by 30% through improvement of the labor productivity of each and every employee, we shall work toward reforming the corporate culture with an aim at becoming a corporation where one can advance his/her career while realizing compatibility of work with individual lifestyles and life events, such as child rearing and nursing care.
Status of Engagement
With human resource diversity, there are various attributes of diversity, such as race, nationality, age, gender, personal history, etc. We at Yaskawa have taken up the promotion of activity of women, who make up the largest minority, as the top priority theme and are engaging in various measures under the strong commitment of the top management.
Strong Commitment of the Top Management
The top management itself, including the president, issues diversity messages to employees and holds employee interactive gatherings focused on women. The top management thus directly provides opportunities for taking up the diverse opinions of employees.
Career Support and Training
Lecture for all female employees
In FY2015, Yaskawa invited female business manager who are active in the business community as a lecturer and held lecture events for all of its female employees. It also conducted group training for female employees (by open invitation and for selected employees) and for all managers. In response to opinions of female employees that it is difficult to envision their career path for the future, the company is currently making efforts to develop steps for offering career support for mid-level general staff to those in management positions.
Information Transmission
A website for the Diversity Management Div. was set up on the corporate intranet to transmit, at an average pace of twice a month, information, not only on the promotion of female activities, but also information introducing the diversity of human resources and ways of working in countries where overseas Yaskawa group companies are located.
Action Plan based on The Act on Promotion of Women's Participation and Advancement in the Workplace
Full-time employee gender data of Yaskawa Electric (unconsolidated) are as follows. (as of April, 2016)
| | The number of full-time employee | Avg. Age* | Avg. Number of Years in Employment* |
| --- | --- | --- | --- |
| Females | 330 | 40.7 | 17.6 |
| Males | 2,437 | 41.6 | 17.7 |
| Total | 2,767 | 41.5 | 17.7 |
*: Does not include executives, consignments, senior staff
Yaskawa Electric is proud to have built a work environment where the average age and average number of years in service are no different between male and female staff, and women are able to continue to work while raising children. However, female leaders are still few in number: four section heads and 15 subsection chiefs. In considering this issue, the company is gaining an understanding of the fact that there have been limited avenues for its female employees to perform, and that there have been few women aiming to become a manager. It is aiming to have more women perform by setting objectives to boost their share of hires and managers.
To steadily push forward its initiatives to promote women in the workplace, the government in April 2016 introduced The Act on Promotion of Women's Participation and Advancement in the Workplace.
Yaskawa Electric is taking further steps to boost the efforts that it has been making to date to promote diversity and established and submitted an action plan for performance by women.
Developing Human Resources at Yaskawa Electric
The basic policy of Yaskawa is to foster human resources with the passion to contribute to global projects by providing a place where employees can take up the challenge and through communication to encourage growing and fostering.
Interactive Gatherings with the Management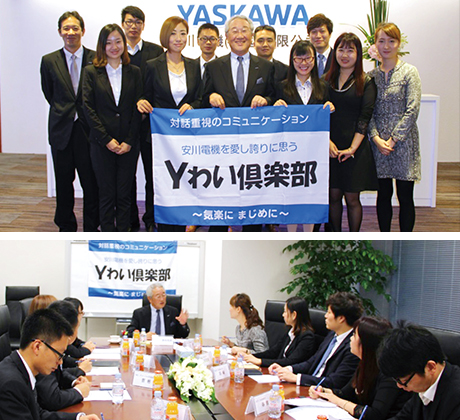 Y-Wai Club gathering
Yaskawa conducts activities across the company to promote the development of people, and it initiates efforts for human resources development with a focus on dialog with management. In aiming to develop a corporate culture to encourage growing and fostering, the company president took the reins for promoting the development of Yaskawa employees from FY2007, the circle of communications has widened, and improvements have been made in the development of human resources.
He also sponsored and participated in the interactive gatherings, the "Y-Wai Club" which has met 196 times to date and attracted 1,832 attendees (FY2007-FY2015). He also started interactive gatherings with the head office and division general managers, and these have been held 856 times to date and attracted 5,749 attendees (FY2007-FY2015).
Through interactive dialog with participants, the company has been aiming to create a corporate culture to take challenges and to prompt employees to face new challenges. It will continue to promote its human resource development and focus on boosting motivation and creating an open and vigorous corporate culture.
Fostering of Global Human Resources
We are putting our efforts into global human resource education as the globalization of the Yaskawa Group accelerates.
"Global Tolerance Reinforcement Program (3 days of training within Japan)"
Growth Steps of Global Human Resource Candidates
Mind-setting concerning knowledge, skills, and mental attitude necessary for residing overseas is provided for human resources for whom overseas posting is expected in the near future. The participants prepare actions plans up to the posting and work hard for self-improvement after the training as well.
English Study Program in the Philippines
To quickly boost their skills in the English language, employees who are expected to perform in the global arena are sent to the Philippines to study English.
Participants work on a curriculum for 11 hours a day for about three months so they can use the vocabulary that they have in actual speech. Upon returning to Japan, more than half the participants become active in appointments abroad or take on responsibilities for overseas duties.
Developing a Pleasant Working Environment
Under our fundamental policy of "creating a safe, friendly, and pleasant workplace," we strive to build a workplace environment where employees can maintain health and vigor whether at work or at home and live a full, satisfying social life.
Yaskawa's Measures Against Harassment
We at Yaskawa consider it most important to create and maintain a workplace environment where all employees are respected as individuals and can work with mutual trust.
Any form of harassment by any employee shall not be ignored or overlooked.
In FY2014, training concerning the definition of harassment and ways of preventing it was carried for all employees and a special page concerning harassment was set up in our intranet to thoroughly notify information on consultation contact offices, etc.
Initiatives for Improving the Level of Safety and Health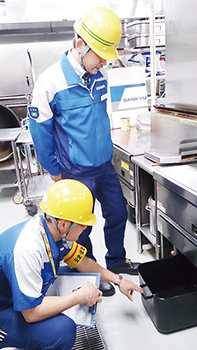 Safety patrol
At each workplace, we provide work standards and training to ensure that work is carried out safely, perform risk assessments, and carry out accident prevention activities in daily operations.
Internal audits are also carried out to determine whether the results of these activities meet health and safety policies and targets, and by performing activities that reflect these results, we have been able to achieve an industrial accident frequency rate below the average of the same industrial field.
Especially in this fiscal year, we are making preparations to implement chemical substance risk assessment to further improve the level of safety and health.
Industrial Accident Frequency Rate
Fall prevention seminar
Employee Heath Support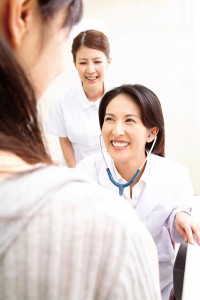 Employee general and special physical exams are carried out organically and efficiently, from ascertaining the working environment and selecting employees, to performing tests and followup care, while giving ample consideration to relevant laws and regulations and various tests characteristics. This not only results in preventing work-related illness, but also provides health care guidance and education with an emphasis on lifestyle and occupational support.
Mental Health Care
From the standpoint that mental diseases and disorders are just like physical diseases in being illnesses can happen to anyone, we provide living and occupational support as necessary.
Also, as part of our measures to minimize psychological stress that can impact an employee's health and lifestyle in various ways, we carry out stress surveys using questionnaires and provide feedback, based on the results, to individuals and their workplaces.
Support for Returning to Work from Sick Leave
When an employee who is forced to take leave due to illness or injury are ready to return to work, consultation is performed not only with the employee him/herself but also with his/her manager and managing department and an industrial doctor to ensure that a supportive physical environment and human support structure is provided to the extent possible.