1) Controlling robots by functions that support communication protocol
The solution controls robots by executing a function which supports communication protocol of MotomanSync I/F* under ladder program in machine controllers. Thus, it doesn't require programing language commanded by robot controllers, and contributes to responsive system by repeating communication of only required sent/received data from each robot.
*An interface feature that control robots from a host computer.
2) Robots run smoothly with movement function
Yaskawa provides necessary functions to control robots as one of its standard function for Machine Controller MP3000 series. It executes a command of movement consecutively, and connects position to position smoothly. Additionally, it enables to build a simplified teaching pendant feature from touch panels etc. connected to machine controller using JOG function.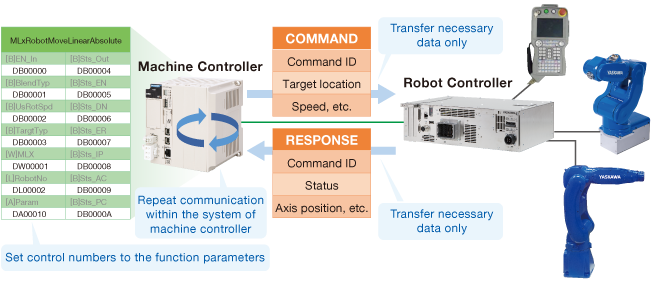 Image of Robot Control