Work-Life Management
As economic conditions and society change, it is essential for a company's mid- to long-term growth that each and every one of its diverse employees fully demonstrates his or her abilities. To this end, we are working to change our work style to one that is productive and dynamic, and to create a work environment in which employees can work with peace of mind by managing the balance between work and private life.
Expansion of Support System for Balancing Childcare and Nursing Care
Platinum Kurumin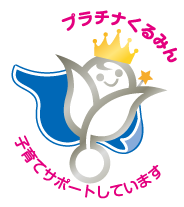 In fiscal 2017, we introduced a system that allows employees to take accumulated leave on an hourly basis, work at home, and take a leave due to their spouses' overseas transfer. We are increasing the number of work options to support a balance between childcare and nursing care and work. With regard to childcare in particular, since fiscal 2018, we have been receiving a "Platinum Kurumin Certification" from the Minister of Health, Labor and Welfare, in recognition of the introduction and increased use of systems that support balancing work and family, as well as our high standards of measures.
In April 2021, we introduced a new telework system, replacing the existing work-from-home system, which has limits on the number of days and reasons, with the aim of establishing an environment in which employees can work flexibly, regardless of location or time, and achieve results by increasing productivity. By using the telework system, many employees who need to balance work with childcare, nursing care, and medical treatment can work continuously.
Childcare and nursing care support system
Below is a part of Yaskawa's childcare and nursing support system.
| | |
| --- | --- |
| Shorter working hours | Employees with childcare and nursing care responsibilities can shorten working hours to six hours a day. *In the case of childcare, applicable until the child graduates from elementary school |
| Spouse childbirth leave (paid leave) | Five days of leave can be taken within eight weeks before and after the due date. *Leave can be split. |
| Childbirth leave for fathers | Leave given to fathers for up to four weeks within eight weeks of the childbirth. *The leave can be split |
| Accumulated leave (paid leave) | Accumulated leave of three days a year are granted from the second year of working at Yaskawa. Accumulated leave can be held for up to 30 days and can be used for childcare, PTA activities, nursing care, etc. and can be taken on a daily, half-day, or hourly basis. |
| Telework | In addition to work-from-home, the system enables working at in-house satellite offices or mobile working, and there is no upper limit on the number of days or hours the employees can use if approved by their supervisor. |
Support for balancing work and treatment
Balancing support coordinator
Yaskawa has appointed a Balancing Support Coordinator since 2018 to enable employees who are sick but have the motivation and ability to work to continue to work vigorously while receiving appropriate medical treatment, free from anxiety.
Other Support
Accumulated leave
Accumulated leave can be used not only for childcare or nursing care but also for self-treatment, volunteer activities and self-development. In recent years, natural disasters have increased, and many employees have taken advantage of the accumulated leave to participate in volunteer disaster recovery activities.
Flextime system
The flextime system allows employees to allocate work and private time according to their daily convenience, and to decide when to come in and leave work within the total working hours for a period of one month. In addition to utilizing childcare, nursing care and personal development, the system aims to enhance the fulfillment by working in a flexible manner.
Efforts to promote the acquisition of annual paid leave
As part of its efforts to create a company that is rewarding to work, Yaskawa encourages employees to take five consecutive days off a year, and many employees take advantage of this system. Through these efforts, we aim not only to take time off to improve our work-life management, but also to create a workplace environment that is free from unreasonableness and waste.