Biodiversity Initiatives
Basic Philosophy of Biodiversity
To realize a sustainable society, the Yaskawa Group recognizes that our business activities are founded on various services provided by biodiversity and shall promote the conservation of biodiversity through business activities and social contribution activities based on our Basic Philosophy of Environmental Protection and our Basic Action Guidelines under the concept that the protection of the global environment is one of the most important themes in common to all human beings.
Action Guidelines
We shall strive to prevent global warming, recycle and save resources, and perform appropriate management of chemical substances in our business activities.
We shall promote our environment/energy business domain to reduce environmental loads from both energy saving and energy creating aspects.
We shall deepen our employees' knowledge on biodiversity and collaborate with the local community, administration, NPOs, and NGOs to carry out activities both internally and externally.
Biodiversity Conservation Initiatives
Participation in the "Donguri-Bank"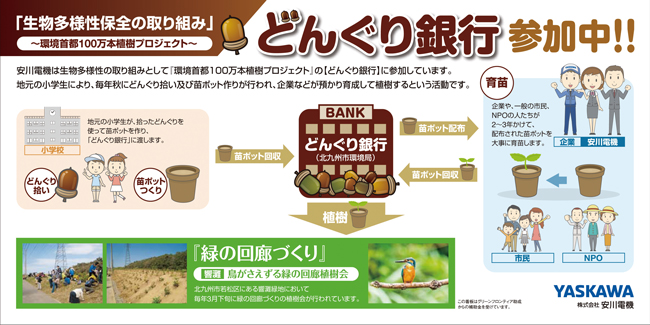 In the Kitakyushu area where Yaskawa's headquarter is located, the company participates in a "Donguri Bank" ('acorn bank') initiative for a "1 million tree planting project in the environmental capital: a project in Hibikinada to create a green gallery where birds sing" hosted by the city.
11 employees and their family members participated in a tree planting event that was held in March.
Following an environmental declaration by local elementary school students, about 1,500 participants planted approximately 5,500 acorn seedlings including 100 seedlings we have grown for two years.
・Activities to exterminate invasive alien species
Since FY2017, we have engaged in activities to exterminate "Coreopsis Lanceolata," an invasive alien species inside the plant facilities.
We learned about the invasive alien species that is adversely affecting the regional ecosystem, confirmed appropriate extermination methods, and implemented extermination activities.
Expanded adoption of FSC®-certified paper*
Paper used for business activities on a daily basis is made from precious forest resources that are produced by the biodiversity of the earth. For this reason, we need to protect forest resources while also using these resources. In other words, we need to make "sustainable" commitments. We completed the switch to environmentally friendly paper for copy paper and name cards, and in FY2018, we started to adopt FSC-certified paper for some brochures.
We will continue to actively adopt FSC-certified paper based on paper purchasing guidelines, and indirectly support global forest preservation as a consumer.
*FSC-certified paper: Paper certified by the International Organization FSC (Forest Stewardship Council®), which is produced in an economically sustainable manner in consideration of the environmental conservation of forests and in the interest of local communities. Our license no.: FSC N003070
Greenbelt
In the new head office (so-called "Robot Village") opened in June 2015, we created the "Greenbelt" in which we planted approximately 100 species of trees, mainly consisting of locally indigenous species, in consideration of biodiversity. We shall continue to foster this forest, which is open to the general public on weekdays, as a place where citizens can familiarize and interact with nature.
In the future, we will also like to use this forest as a forest of education, such as observation of living organisms that inhabit the forest, etc.