Contributing to the Environment through Products and Services
Taking Measures in Product Development
We are accelerating efforts to reduce the environmental impact of Yaskawa Electric's products by making energy conservation, the recycling and saving of resources, and proper management of chemical substances into priority objectives. These objectives apply throughout every stage of the product lifecycle̶―from materials procurement, manufacturing, and sales, to actual use and recycle or disposal.
In product development, Yaskawa Electric has formulated product assessment regulations and set up a system to verify that ecoconscious design is being used and to prevent the release of products that do not achieve a certain level. By introducing life cycle assessment(LCA) practices, we have also enabled visual measurement of environmental impact at every stage in a product's life cycle. This clarifies product issues and has made it possible to verify the effectiveness of countermeasures. We intend to make use of these arrangements to continue reducing the environmental impact of our products even more throughout their entire life cycle.

Green Products:
Contributing to Improve the Global Environment through Climate Change Control
Through its products, Yaskawa will continue to remarkably improve productivity and energy saving of its customers and reduce the burden on the environment around the world.
It has created a system in which it uses an evaluation system from an environmental perspective to certify products which meet certain criteria as "Green Products" and those that have the best environmental functions in the industry as "Super Green Products".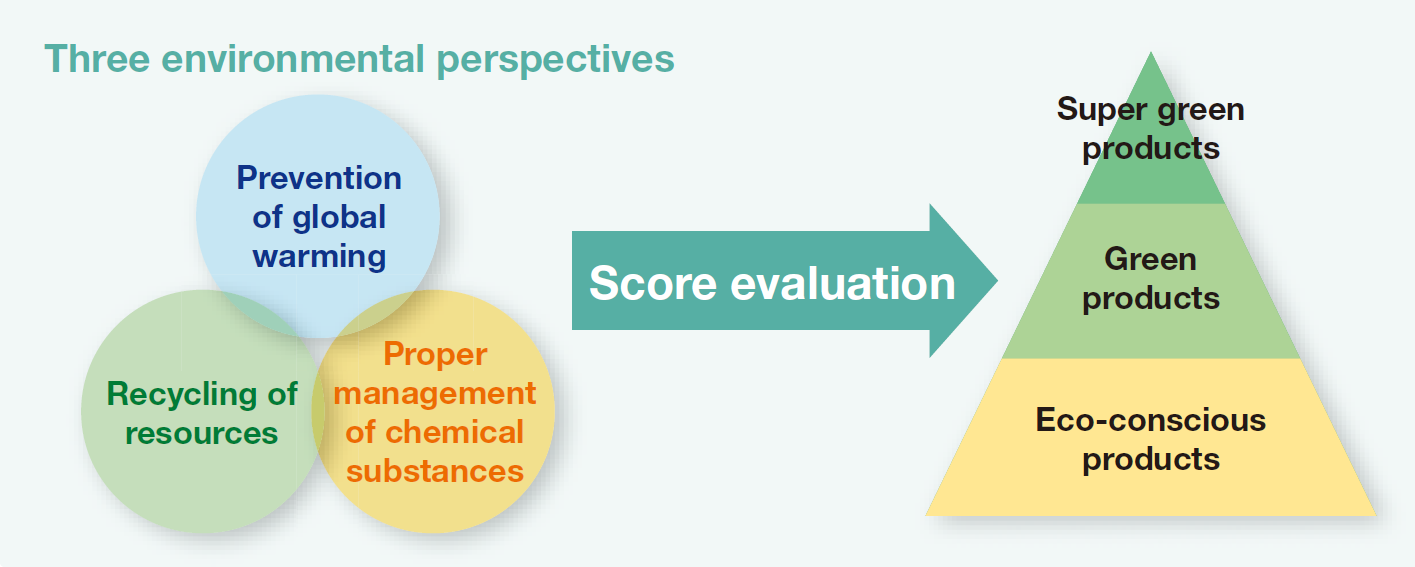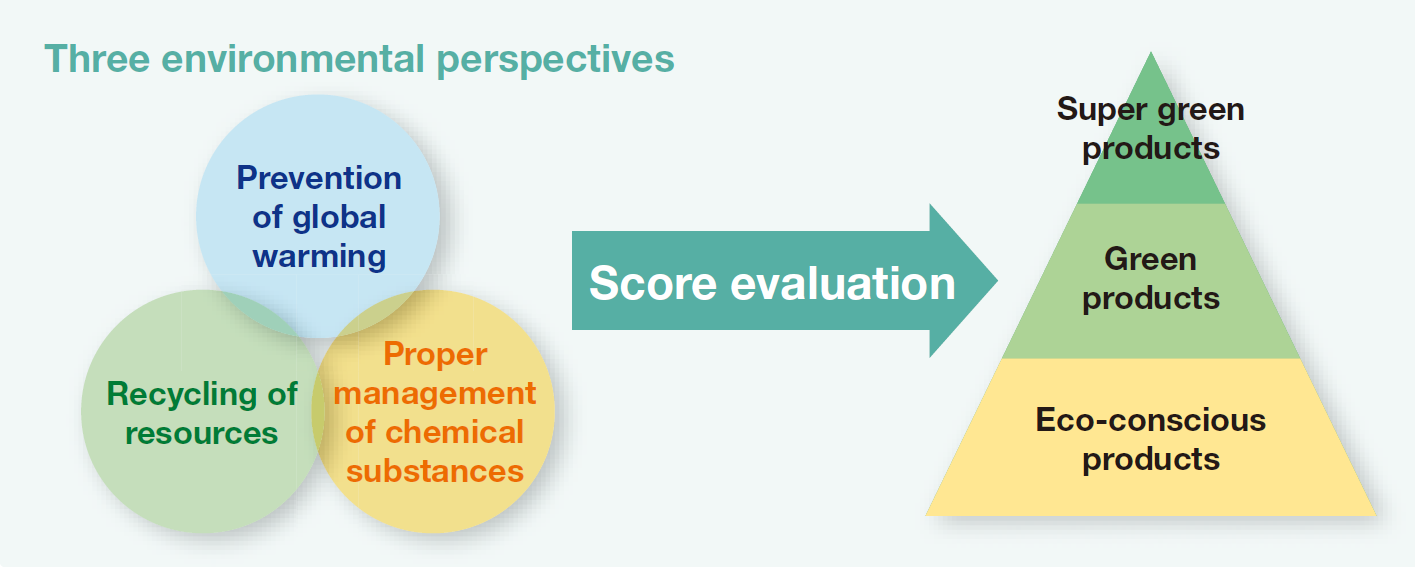 In FY2017, we certified six series as "Super Green Products" for a cumulative total of 18 certified series and look to continue add to our certified series totals.
Super Green Certified Products have won high acclaim from outside the company, such as the Energy
Super Green Products
Authorized Products as "Super Green Products" in FY2017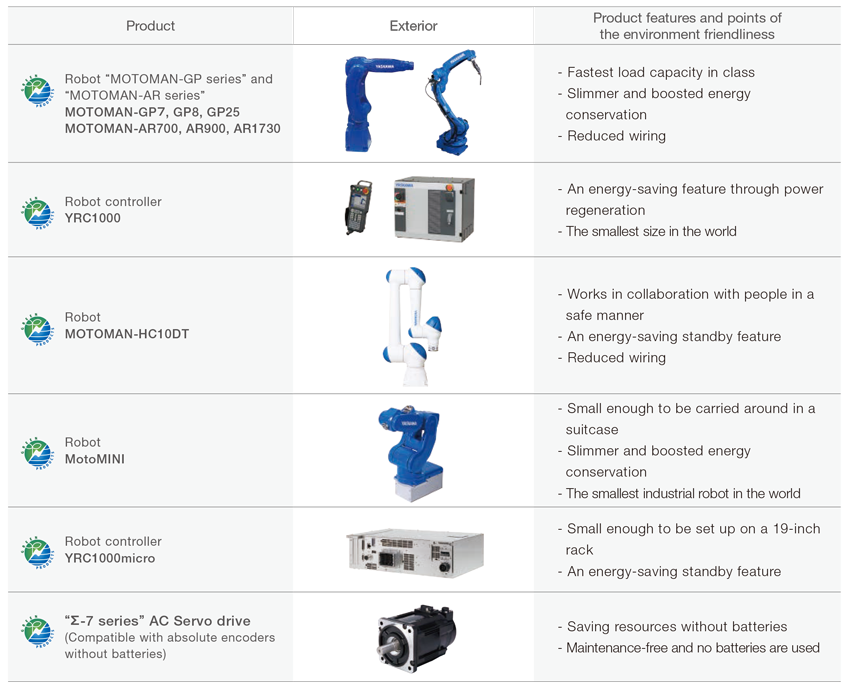 Development of Products with Consideration for Resource Saving
The matrix converter U1000 is a next-generation drive product that was initially developed for the purpose of saving resources, recycling, protecting the environment, safety, and enhanced energy saving. The size of the area required for its installation has been reduced by 65 % and wiring has also been reduced by 70 %.
Examples of Environmental Contributions through our Products
(1) Contributing to the Environment through Power Supply Regeneration and Incorporation of Higher Harmonic Control Equipment
The conventional power supply regeneration equipment configuration with the AC drive + converter connected required higher harmonic control parts (input AC reactor, higher harmonic filter reactor/capacitor). The use of these parts required a large number of wiring and a large control panel, and the control parts also gave rise to energy loss.
To solve this problem, we have developed and released the Matrix Converter U1000 as a next-generation motor drive product that incorporates all circuits necessary for power supply regeneration. This product makes possible not only energy savings by power supply regeneration but also realizes savings in wiring and space due to not requiring higher harmonic control parts and thereby contributes to significant resource savings as well as energy savings by elimination of the energy loss caused by higher harmonic control parts.
The Matrix Converter U1000 exhibits excellent environmental performance through power supply regeneration + resource savings + energy loss reduction.

Introduction of Application Example of Our Products
(2) DC Multilink
DC multilink is a system which connects existing electrical machinery with direct current (DC) having less conversion loss. The regenerative energy of a motor or natural energy generated by solar power or wind power is directly charged in a capacitor, and the charged power is used for emergency power supply, or peak shift, peak cut, or peak electric power assist as it is direct current (DC) with the expectation of an increased power-saving effect.
Automated Warehouse Generating Electricity
We applied the DC multilink to the automated warehouse (stacker crane) in operation at our Robot Plant No.2, and verified the regenerative power control technology*. When rotating by itself, a motor consumes electric power, but when the motor is rotated, electric power is generated, which is called regenerative electric power.
In this case, the regenerative power produced by rotating the motor when the crane descends is charged, and it is discharged when the crane ascends to assist the starting power.
The manner of adding conventionally discarded regenerative energy to "energy conservation by pick-up" and performing "peak electric power suppression" at start-time is visualized on a real-time monitor to provide opportunities to consider the use of regenerative energy for our customers' facilities.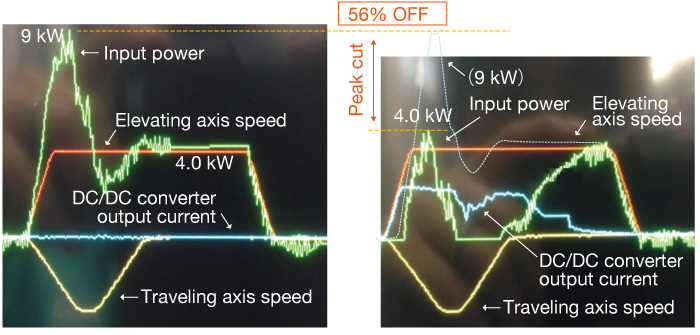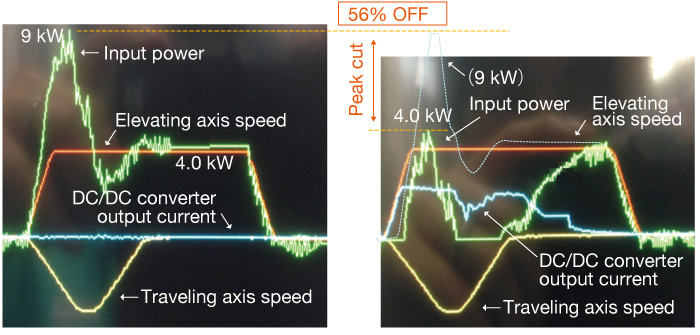 Comparison between with and without peak electric power assist
For verification, evaluations are still going on at present with functions included to safely use equipment, such as the stop charge mode for reliable peak electric power assist and automatic avoidance mode to continue operations even when the charge capacitor is abnormal.
* We conduct verification by using .
(3) EV System
Rapid Charging Battery-powered Boat "RAICHO"
Our EV technology has been adopted for the rapid charging battery-powered boat "RAICHO" built by Tokyo University of Marine Science and Technology.
This battery-powered boat realizes "low noise and low vibration," "no exhaust or CO2 emissions while cruising," "high output and short charging time," etc., with use of a lithium-ion battery and propulsion motor.