Green Products
Taking Measures in Product Development
We are accelerating efforts to reduce the environmental impact of Yaskawa Electric's products throughout every stage of the product lifecycle. Our efforts concering energy conservation, the recycling and saving of resources, and proper management of chemical substances are consistently implemented from materials procurement, manufacturing, and sales, to actual use and recycle or disposal.
In product development, Yaskawa Electric has formulated product assessment regulations and set up a system to verify that ecoconscious design is being used and to prevent the release of products that do not achieve a certain level. By introducing life cycle assessment(LCA) practices, we have also enabled visual measurement of environmental impact at every stage in a product's life cycle. This clarifies product issues and has made it possible to verify the effectiveness of countermeasures. We intend to make use of these arrangements to continue reducing the environmental impact of our products even more throughout their entire life cycle.

Green Products:
Contributing to Improve the Global Environment through Climate Change Control
We have introduced a "Green Products" certification system to dramatically improve our customers' productivity and energy-saving performance and reduce environmental burdens around the world.
We evaluate the environmental contribution of products from the three perspectives of: "prevention of global warming," "resource saving and recycling," and "proper management of chemical substances," and products which meet certain criteria are certified as "Green Products" and those that have the best environmental functions in the industry as "Super Green Products."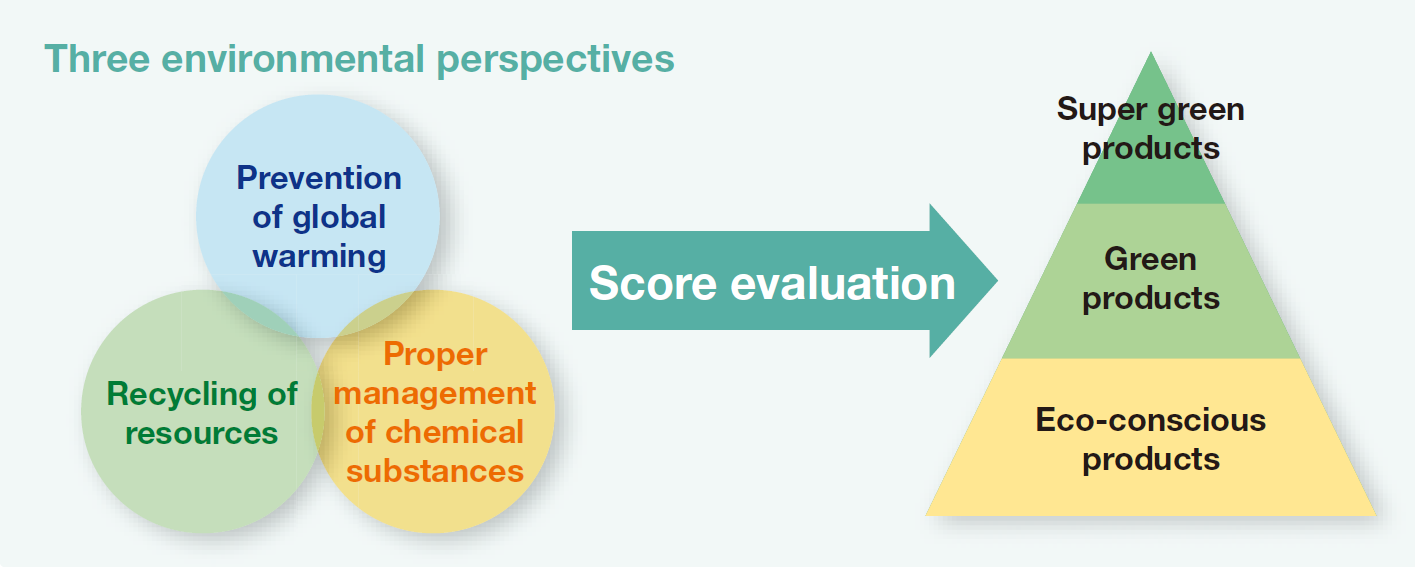 In FY2022, Yaskawa certified 2 products as "Super Green Products" for a cumulative total of 36 certified products. Super Green Certified Products have won high acclaim from outside the company, such as the Energy Conservation Grand Prize.
Super Green Certified Products have won high acclaim from outside the company, such as the Energy
Super Green Products
Authorized Products as "Super Green Products" in FY2022
Development of Products with Consideration for Resource Saving
The matrix converter U1000 is a next-generation drive product that was initially developed for the purpose of saving resources, recycling, protecting the environment, safety, and enhanced energy saving. The size of the area required for its installation has been reduced by 65 % and wiring has also been reduced by 70 %.
Proper management of chemical substances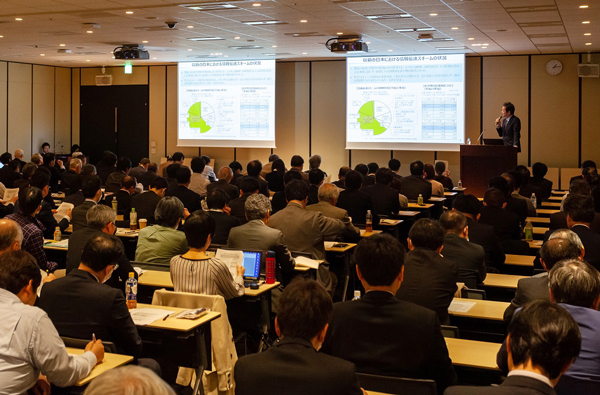 Seminar Room (Nikkei Conference Hall)
In FY2017, we introduced the chemical substances information communication scheme "chemSHERPA" in accordance with the International Electrotechnical Commission IEC62474, which is used for management of chemical substances contained in products.
In March 2019, we participated in "Yokuwakaru chemSHERPA Donyu Kigyo Jirei Seminar (Seminar for easily understanding company case studies of chemSHERPA installation)" hosted by Nikkei ESG, and introduced some examples from our company, such as devising chemSHERPA management.
In FY2021, practical training courses on chemical substance management were offered to employees at Yaskawa Group companies located in China.
We clarified the checklist of each section and department and improved the skills of those responsible for handling chemical substances to ensure the proper response to changes in global regulations and requirements related to chemical substances.
Yaskawa will continue to carry out similar educational activities to enhance the chemical substance management system for products.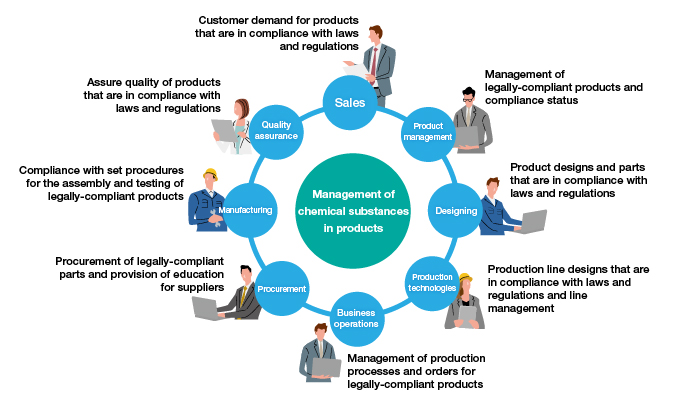 Examples of Environmental Contributions through our Products
(1) Contributing to the Environment through Power Supply Regeneration and Incorporation of Higher Harmonic Control Equipment
The conventional power supply regeneration equipment configuration with the AC drive + converter connected required higher harmonic control parts (input AC reactor, higher harmonic filter reactor/capacitor). The use of these parts required a large number of wiring and a large control panel, and the control parts also gave rise to energy loss.
To solve this problem, we have developed and released the Matrix Converter U1000 as a next-generation motor drive product that incorporates all circuits necessary for power supply regeneration. This product makes possible not only energy savings by power supply regeneration but also realizes savings in wiring and space due to not requiring higher harmonic control parts and thereby contributes to significant resource savings as well as energy savings by elimination of the energy loss caused by higher harmonic control parts.
The Matrix Converter U1000 exhibits excellent environmental performance through power supply regeneration + resource savings + energy loss reduction.

Introduction of Application Example of Our Products
(2)  Electrical systems for water treatment 
With an ever-greater close-up on global environmental issues, water grows increasingly in importance.
Water supply is required to be the responsible lifeline in any society that desires to make advancements and sewers have been tasked with ensuring flood control, public health improvements, and quality preservation of public waters. In recent years, in addition to the above commitments, water-related operations are also involved in a wide range of issues, such as pursuit of energy-saving, effective use of facilities, and population decline.
In order to meet increasingly diversifying needs, our company provides reliable electrical systems for water treatment under a wide-range of ideas with an eye toward the next generation and from a fine and on-site based view.

– Monitor control system supporting advanced operations management and maintenance management
– Operations management support system contributing to improvements in the accuracy of data acquisition, analysis, and prediction
– Rainwater drainage treatment system contributing to prompt elimination of rainwater from urban areas based on monitoring and predictions