Green Process
Environmental Impact Data Summary (FY2017)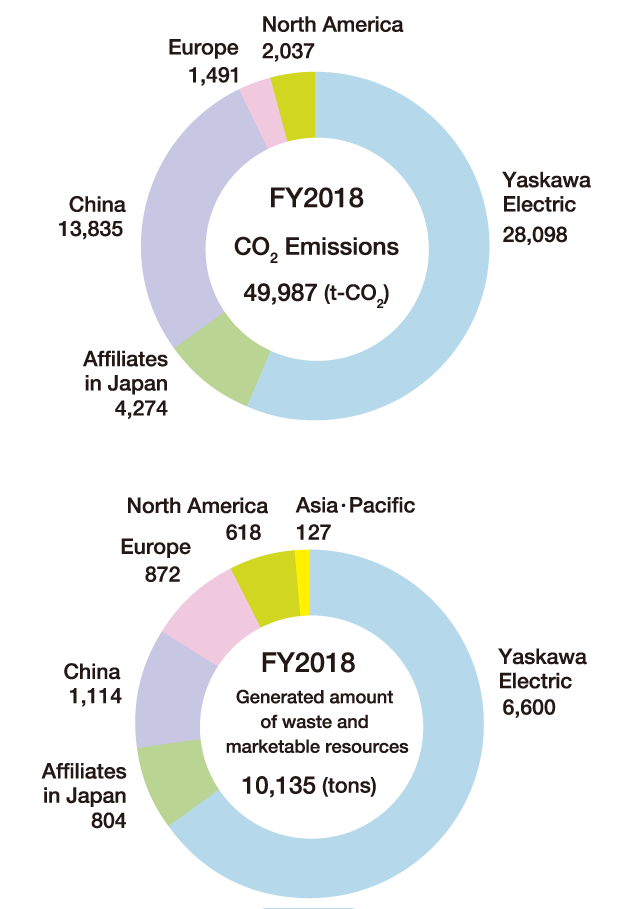 "Green process" to reduce the burden on the environment in business activities
The Yaskawa Group emits CO2 and waste materials as a result of using energy, such as electricity, gas, etc., and resources, such as components/materials, water, etc., for manufacturing, sales, engineering, etc., of electrical products and systems, and other related businesses.
The above figure illustrates the status of environmental loads of our production and sales activities.
We also manage the amount of energy used, CO2 emissions, and amounts of waste materials and valuables generated from business activities of our domestic and international group companies.
The scope of management targets group companies of high energy usage amount (accounting for approximately 90% of the energy used by the entire group).
Going forward, we shall expand the scope of management to 100% and promote the reduction of environmental loads.
The graph at the right shows the energy-derived CO2 emissions of the Yaskawa Group in FY2018.
Preventing Global Warming
Initiatives to Save Energy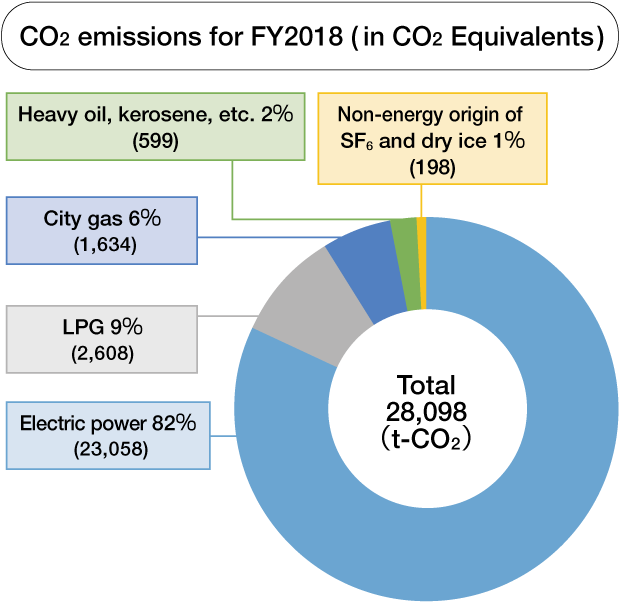 Yaskawa conducted activities to promote conservation objectives, aiming at a "10% reduction (versus FY2012) in energy consumption per unit of production volume" targeted in its 2018 mid-term environmental plan. In FY2017, the improvement effects of energy-saving investments and the enhanced operating efficiency of facilities resulted in a 16.5% reduction compared with FY2012.
As commitments toward energy-saving, we have expanded the range of automatic control of air-conditioning using IoT, in addition to upgrades in lighting and air-conditioners.
In addition, by visiting our China plants and conducting energy-saving diagnoses, we discovered new energy-saving points and suggested improvements.
Note: For calculation of CO2 emissions from electric power, the actual emissions factor of each electric power company is used.
[Range of applicability of data] Yaskawa Electric and group companies and partners within Yaskawa Electric business sites
Air-conditioning control by energy management system

China plants energy-saving diagnosis
Commitment to energy creation
Under the new Midterm Environmental Plan (2019 – 2021), the Group aims to reduce CO2 emissions by 6% per unit of sales (versus FY2015), and aims at a renewable energy rate of 5% or more in electricity usage for energy creation. From FY2017 onward, self-consumption type solar power generating facilities using Yaskawa's power conditioners installed at the Nakama Plant, Yukuhashi Plant, etc., have raised the renewable energy rate by approximately 4%.
Overseas, solar power generation was also introduced at YASKAWA EUROPE in FY2017.
As we move forward, we continue to make energy-saving and energy creation investments in a systematic manner and work to achieve our long-term goals.
Renewable energy rate in electricity consumption

Our products power conditioner
YASKAWA EUROPE Solar power generation 283kW
Resource Recycling and Resource Saving
Recycling Activities
As a result of China's plastic waste import restrictions, waste plastics, which were conventionally sold as valuable materials, are now classified as waste.
However, by selecting a recyclable waste disposal operator, we were able to maintain zero waste emissions.
Initiatives of 3R(Reduce・Reuse・Recycle)
・Recycling of work clothes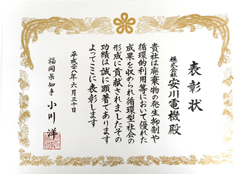 Certificate of Appreciation
A change in work clothes resulted in the mass generation of work wear, which were offered free of charge for reuse as automotive upholstery.
These activities were recognized with the awarding of the Fukuoka governor's award for outstanding efforts to promote a recycling-oriented society and a prize offered by the city of Kitakyushu for the promotion of 3R activities (a recycling award).
・Reuse of isopropyl alcohol (IPA)
High-purity IPA had been discarded from the Yaskawa Controls' Bestact manufacturing line in the Yukuhashi Plant.
As a result of a review conducted by the group companies within Yukuhashi Plant, mainly centering on Yaskawa Electric, reuse of IPA was started because the quality of IPA used in Yaskawa Electric Engineering's repair process could be ensured.
Consequently, the activities resulted in significant improvement in the amount of IPA discarded from 3,500 liters per year to 500 liters per year.