Green Process
Environmental Impact Data Summary (FY2021)
[Range of applicability of data]
Yaskawa Electric and group companies and partners within Yaskawa Electric business sites, Yaskawa Motor Corporation
However, the ranges of the following items are defined separately.
"Green process" to reduce the burden on the environment in business activities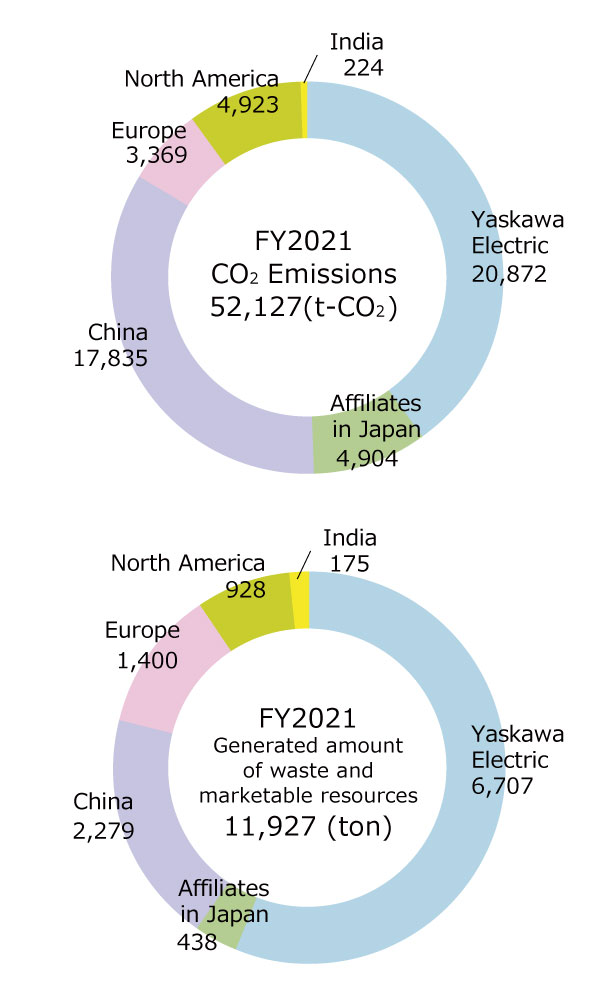 The Yaskawa Group emits CO2 and waste materials as a result of using energy, such as electricity, gas, etc., and resources, such as components/materials, water, etc., for manufacturing, sales, engineering, etc., of electrical products and systems, and other related businesses.
The above figure illustrates the status of environmental loads of our production and sales activities.
We also manage the amount of energy used, CO2 emissions, and amounts of waste materials and valuables generated from business activities of our domestic and international group companies.
The scope of management targets group companies of high energy usage amount (accounting for approximately 90% of the energy used by the entire group).
Going forward, we shall expand the scope of management to 100% and promote the reduction of environmental loads.
The graph at the right shows the energy-derived CO2 emissions of the Yaskawa Group in FY2021.
Preventing Global Warming
Initiatives to Save Energy
Yaskawa engaged in energy-conservation activities with the aim of reducing total Group CO2 emissions by 10% (compared to FY2018), as per the target in the 2022 Midterm Environmental Plan.
In FY2021, Yaskawa mainly advocated for improvements to investigate and prevent air leakages, as well as upgrade lighting, air-conditioners, and production equipment. In addition, we drove the adoption of CO2-free energy at Iruma Plant, Kokura Plant, and Nakama System Factory. Overseas group companies also implemented solar power and promoted energy saving.
*Actual emission factors released by electric power companies were used until FY2018 to calculate CO2 emissions from electric power in Japan. Adjusted emission factors are used from FY2019 onward.

*For calculation of CO2 emissions from electric power overseas, the representative emissions factor of each country (see IEA data) is used.
[Range of applicability of data] Yaskawa Group
Air-conditioning control by energy management system

China plants energy-saving diagnosis
Initiatives to Adopt Renewable Energy
Under its Midterm Environmental Plan 2022, the Group aims to reduce CO2 emissions by 10% (compared to FY2018) and reach a renewable energy rate of 58% or more in electricity usage. In FY 2021, we completed the adoption of CO2-free energy at Iruma Plant, in addition to Yahata-nishi Plant, Nakama Plant, and Kokura Plant. As a result, CO2-free energy makes up approximately 61% of our energy consumption.
Renewable energy rate in electricity consumption (YEC)
*Annual total up to FY2021; Total for the month of
May for FY2022

Our products power conditioner
Resource Recycling and Resource Saving
Recycling Activities
As a result of China's plastic waste import restrictions, waste plastics, which were conventionally sold as valuable materials, are now classified as waste.
However, by selecting a recyclable waste disposal operator, we were able to maintain zero waste emissions.
Packing Materials Information
Water Management
The Yaskawa Group strives to reduce Water withdrawal at our production plants by reexamining the management of cooling towers and our water leakage countermeasures.
We evaluate water risks*1 at the Yaskawa Group's production plants in Japan and overseas using "Aqueduct"*2.
Evaluations indicated that four plants in China and one plant in India are located in high water risk areas.
At high-risk sites, measures have been taken to install water storage tanks and raise the height of factory floors.

*1: Water risks refer to the dangers and threats to corporate activities that may result from water pollution and water stress due to water shortages.
*2: A water risk evaluation tool that has been developed and made available to the public by the World Resources Institution (WRI).
Initiatives of 3R(Reduce・Reuse・Recycle)
・Reuse of isopropyl alcohol (IPA)
High-purity IPA had been discarded from the Bestact Solutions' Bestact manufacturing line in the Yukuhashi plant.
As a result of a review conducted by the group companies within Yukuhashi Plant, mainly centering on Yaskawa Electric, reuse of IPA was started because the quality of IPA used in Yaskawa Controls's repair process could be ensured.
Consequently, the activities resulted in significant improvement in the amount of IPA discarded from 3,500 liters per year to 500 liters per year.