Environmental Performance Data
Environmental Accounting
With a view to promote environmental management, we are engaging in "environmental accounting" to sum up and analyze our own environmental conservation investments and reflect return on investment in managerial decision-making.
As environmental conservation investments in FY2018, air-conditioner upgrades and introduction of LED lighting were mainly implemented.
In addition, research and development of inverters, electric drive systems for electric vehicles, solar and wind power generating systems, etc., were approximately 1.09 billion yen, and the amount of investment in global environmental conservation was approximately 1.46 billion yen.
In terms of environmental conservation, CO2 emissions were reduced by 2,843 tons (equivalent to 11% of the total emissions of the previous FY) through energy-saving, energy-creating investments and activities to improve energy-saving operations.
We also realized economic effects of approximately 107,030,000 yen in energy costs and approximately 104,930,000 yen in waste disposal due to the recycling of waste.
Environmental conservation costs
Effects of environmental conservation
Economic effects
Item
FY2017
FY2018
Intra-corporate economic effects
Energy cost

10,703

7,870
Waste disposal cost

10,493

11,397
* Environmental conservation costs, effects of environmental conservation, and economic effects of our six production plants in Japan are summed up based on the Ministry of the Environment's "Environmental Accounting Guidelines 2005."
List of Environmental Data
We are working toward self-action objectives on a daily basis in order to inspire commitment toward environmental load reduction. The environmental data (results) from FY2014 to FY2018 is listed below. 
 Yaskawa Electric
*1 : For calculation of CO2 emissions from electric power, the emissions factors made public by electric power companies are used. The Scope 3 value is the total value for Categories 1, 2, 3, 5, 6, and 7. (Category 1 has been targeted for aggregation since FY 2018.)
It is verified by the Japan Quality Assurance Organization that there is no error in calculation of the emissions values of the respective Scopes.
[Range of applicability of data]
Yaskawa Electric and group companies and partners within Yaskawa Electric business sites, Yaskawa Motor Corporation
However, the ranges of the following items are defined separately.
*2 : "Scope 3": Yaskawa Electric and group companies and partners within Yaskawa Electric business sites
*3 : "Logistics": Yaskawa Logistec Corporation
Yaskawa group


Third-party verification of greenhouse gases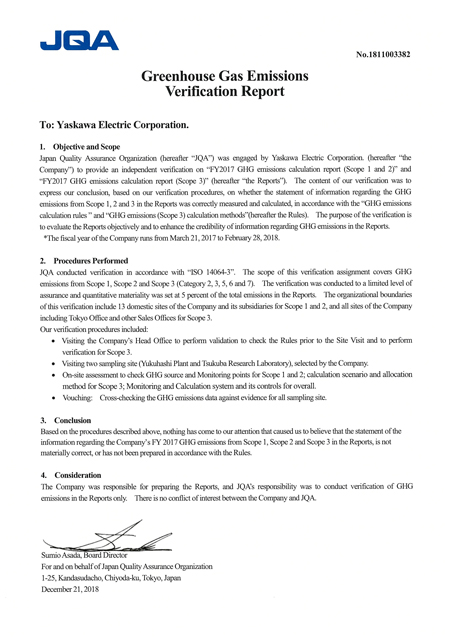 To improve the reliability of the calculated greenhouse gas emissions (Scope 1, 2, and 3), we receive third-party verification by Japan Quality Assurance Organization.