Industrial robot
In addition to the automobile industry, industrial robots, which repeat the same movements as bracketing robots in assembly, transport, welding, and painting at automobile factories, have become increasingly popular in other areas such as the 3C markets such as computer, consumer appliances, and communications, and the general industries such as food, medical products, and cosmetics. Servo motors move the arm as the joint of this industrial robot. The vertical articulated robot consists from 5 to 7 axes, and the horizontal articulated scalar type consists of generally 4 axes. The robot's degree of freedom is created by incorporating a servo motor. It is said that a 7-axis vertical articulated robot can perform swinging and twisting motions with the same degree of freedom as a human. Yaskawa manufactures industrial robots with the world's highest level of motion control performance by incorporating its own designed servo motors.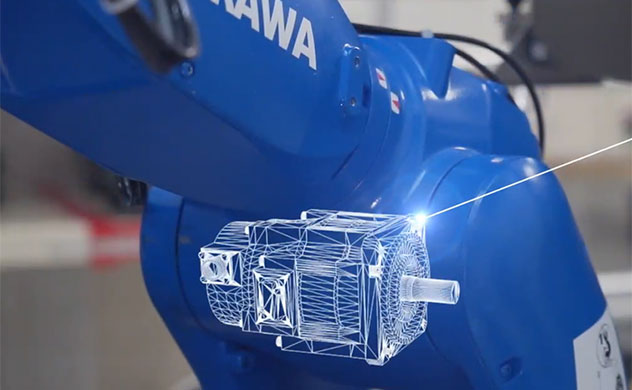 Semiconductor manufacturing apparatus
Semiconductor chips are manufactured through hundreds of processes using dozens of different types of manufacturing equipment. Specifically, in a process called the front-end, fine circuits are formed using "exposure apparatus", "coating equipment," "etcher," etc., and in the back-end, they are formed into IC chips using "dicers," which cut out tiny chips from a wafer, "die bonders," which fix the chips to a lead frame, and "wire bonding," which forms circuits with extremely fine gold wires. Most of these machines are equipped with small-capacity servo motors because they require highly precise operation.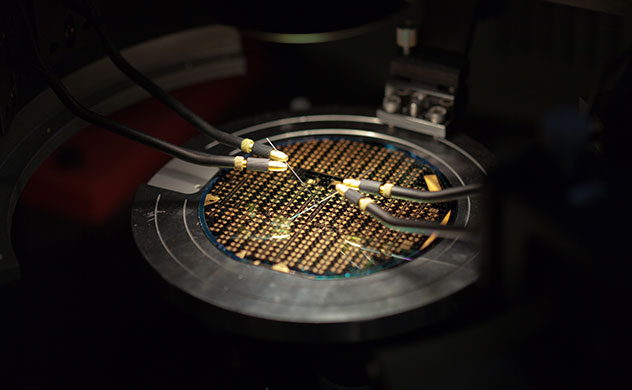 Machine tool
Metallic products such as smart phones, watches, home appliances, and digital devices, as well as large products such as automobiles, aircraft, and ships, exist in all areas of everyday life. The parts that make up these products are made primarily by scraping, punching, or moulding. Machines that perform such processing are called machine tools. Because all machines and their parts are made through machine tools, machine tools are also called "machines that make machines" or "mother machines." Many servo motors are used to support high-speed and high-precision machining required for machine tools.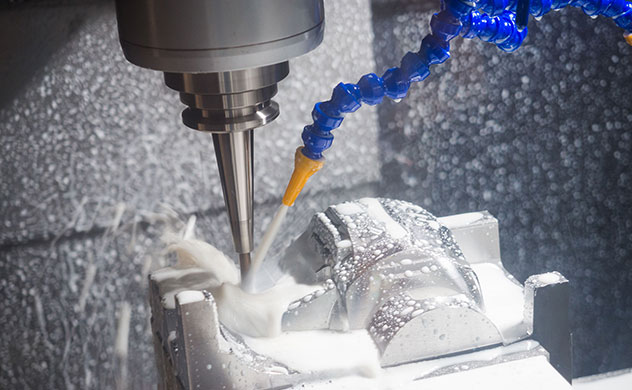 FPD (flat panel display) manufacturing equipment
There are about 26 kinds of FPD manufacturing processes, from circuit design to inspection. Although the equipment used and the technology required for each process vary widely, it is common to process large, thin glass substrates quickly, accurately, and cleanly. In response to the growing size of TV screens, the size of the mother glass substrate used as the material has been bigger, and the latest 12th generation is 3350 x 3950 mm. High-precision servo motors are used to process and inspect such large mother glass substrates.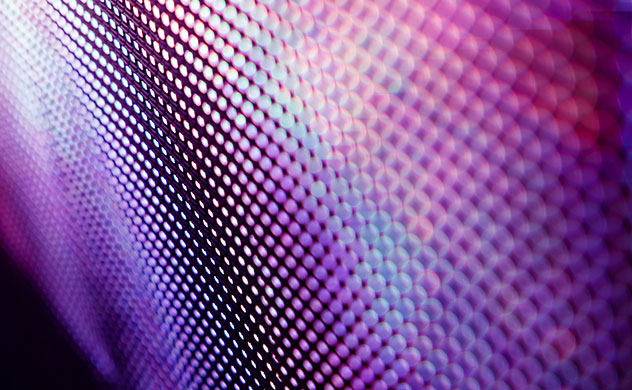 Metal working machine
Since automobiles parts, aircraft parts, and trains parts etc. are reflected in the performance of their finished products, extremely high processing quality is required. The same applies to components of industrial equipment such as electrical equipment, laser equipment, and pump equipment. Therefore, high precision is required when processing various metals such as iron, aluminum and stainless steel. While the above machine tool generates shavings during machining, the metal machine tool is a device that does not generate shavings by pressing or shearing the workpiece.
Servo motors with large capacity and high precision are also required for precise processing of difficult materials such as carbon and titanium.